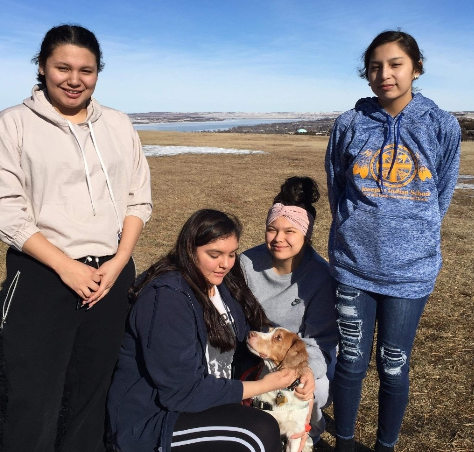 Last Saturday some of the Giles Home girls went on a rescue run and met Nena, an older rescue who was on her way to Black Hawk, S.D.
When first being introduced to our girls, Nena was visibly shaking. She wouldn't take the treats we brought and she cowered as the girls slowly, one by one, attempted to pet her. 
The transfer was made and we worried Nena wouldn't enjoy her time with us, as she was so scared. After many softly spoken words, patience, nurturing and love, Nena came out of her shell! She drank water and ate voraciously, which the previous transporters said she wouldn't do. She wagged her tail, she approached the girls, went for a jog around the path at the rest stop, and – believe it or not – she looked like she was smiling. We were so grateful the transfer was made early so we had more time with her!
Before Emily* passed the leash off to the next transporters, Nena happily went toward our minivan and waited to get in. There was an "Aww" from all of us, and the next transport people said Nena had so much fun with the girls that she didn't want to leave them. They assured us that Nena would be with two other pups in a large fenced in area and was going to be well cared for.
As we drove away, one of the girls noticed Nena looking out of the window at us.
"I miss hear already" was spoken, with all agreeing.
This pup touched us, and each one of the girls touched Nena in their own way.
These transports have been ways for our students to share their love and time by helping little furballs get to a better life – enriching both humans and the pups. These transports also have been opportunities for our kids to share about their own feelings of home, hopes, sadness and joys. Saturday's trip was no different.
When talking about how many people it takes to help one pup, Emily* reflected on her life and talked about her experiences with foster parents, how she felt, how they treated her and loved her. Later when I said all of the girls were Nena's new "moms" and how having more than one mom was a blessing, Emily lit-up and agreed, and said she's had more than one mom.
Pilamaya – thank you – to everyone who helps make these rescue missions possible.
*Name of student has been changed to protect her privacy.