With a last name like Huffstetter, I definitely have some German ancestry, but my forebears came to this continent in 1736, before there even was a United States. I have picked up a few words of German over the years, but it is still very limited. We recently had a donor from Germany visit the Akta Lakota Museum & Cultural Center – Anna, who spoke no English. Once I got past my basic greetings of welcome and hello, I relied on her daughter, Gabriele to translate as we toured the campus.
When Anna said that she had a great interest in Native American culture, even as a young girl, I remembered learning of the German author Karl May whose books about the American west captivated many generations of folks overseas.  I recalled a phrase and asked:
Haben Sie Karl May gelesen? (Have you read Karl May?)
Gabriele started to translate what I asked, then stopped as she realized that I had actually asked the question in German. We all had a good laugh.
We visited one of the third grade classrooms to observe the students in a reading lesson. Anna hoped to get a picture or two and plenty of hands went up when I asked for volunteers. St. Joseph's students are taught to be polite and greet visitors by introducing themselves (first names only). I told them that if they wanted to say "My name is (I am called)" They should say:
Ich Heisse . . .  Fr. Steve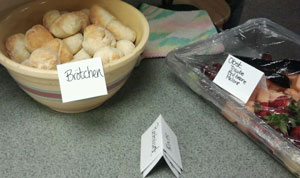 Shaniece was the first to gently put out her hand and quietly say "Ich Heisse Shaniece."
Jaren followed with a similar greeting, and several other kids offered their hand and greeting as well. It brought a smile to our visitors, and a nice lesson in cross cultural understanding and hospitality.
We will have four of our Lakota high school students visit our sister school in Handrup, Germany in June. To help prepare, Clare, Anita and Maija planned a German-themed meal in the Crane home. Dishes and foods were labeled in German, and each participant was given a sheet of simple but helpful phrases like bitte (please) and danke (thanks) to practice.
In the background, the TV ran a slide show of past German trips to encourage student interest.  Maija gave quizzes about elements of German culture. Wyatt shared that he found an app for his phone that will help him with some basic translations. Anita's combined creation of German Chocolate Cherry Black Forest Cake may not have been authentic, but it was certainly delicious! All in all, we had a fun and festive evening.