Sunday, five of our St. Joseph's students and 65 of their Chamberlain High School classmates celebrated graduation as the Class of 2013. It seemed the whole community was packed into the armory.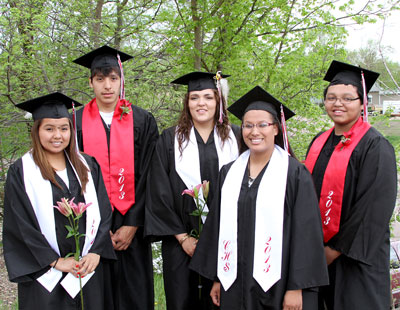 The school choir and band performed some nice selections. The main event, however, was simply these youth proudly walking up the aisle accompanied by flashing cameras and rolling camcorders to mark this transitional time in their lives. We pray and hope for a wonderful future where their gifts and abilities can help meet the world's needs.
We had some controversy with this year's graduation. Chris, one of our St. Joseph's seniors presented a petition to the school board to add a Lakota Honor song to the graduation ceremony to add a cultural element and to honor all the graduates.
Disappointingly, the school board turned it down. Community members from town and the nearby reservations held signs of protest across the street, gathered around a drum to respectfully played an Honor Song as their tribute to graduates filing out of the auditorium.
Afterwards, I attended some of the many receptions held all over town. Besides our St. Joseph's students, several staff had children graduating, and I wanted to offer special congratulations to them.
Coleman's parents have been houseparents on campus for many years. While Coleman didn't attend St. Joseph's Indian School, I watched him grow up with our kids in the Pinger Home. It truly felt like one of our own had reached this milestone.
I also knew some area graduates from the parishes I used to pastor. Kids I knew as first graders have now received diplomas and are preparing to go off and make their mark on the world.