Tuesday, February 1, 2011
I stopped in at the Akta Lakota Museum & Culture Center to see how things were going there. We don't get a whole lot of visitors in February – only one brave soul during yesterday's snowstorm. We do get regular shoppers on our Akta Lakota online gift store, interested in artwork, books and information on Native American culture, so there are always orders to fill. But now is also a good time to do inventory and prepare ahead for summer busloads of tourists, and travelers who stop through to visit campus.
Today was Red, White and Blue day for Catholic Schools Week. I simply donned my 1970's White Sox cap–which covered all three colors–and I didn't have to change any of my usual black and white wardrobe. My sisters envy me because I sure don't have to spend much time figuring out what to wear for the day.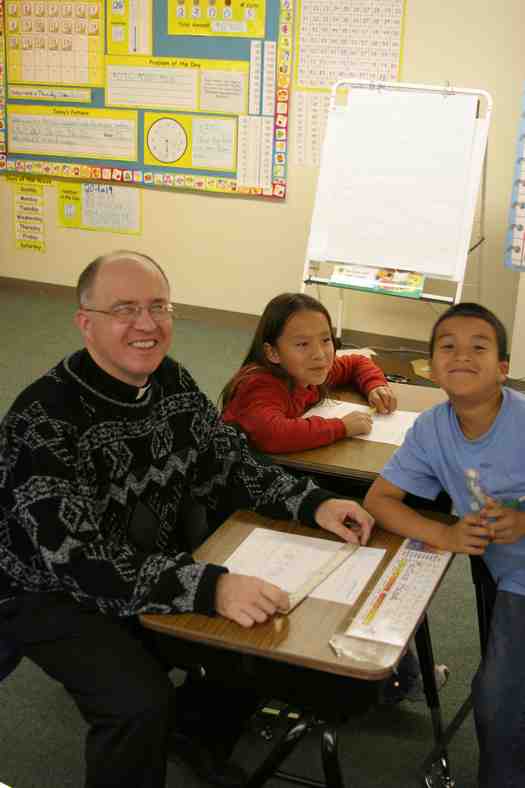 While in Math class, I took up the students' challenge and proved I can still add mixed fractions, as I explained each step to them as I did it. I heard some of the poetry the 6th graders were working on. When I entered the 5th grade room and found they were in their reading mode, I listened to a few impromptu book reviews as I went around the room to ask what each was reading. Our speech therapist celebrated a birthday, so I stopped by and sang, "Happy Birthday" to Angela, then observed her lesson for a while.
Our SEED book discussion group was down to four hearty souls who braved the cold. Yet discussion of the autobiography "Crow Dog" was lively. He is from Rosebud, and his take on historical events we remember like the development of the American Indian Movement, the 1973 Wounded Knee occupation and the takeover of BIA offices in DC were fascinating. He also describes a Lakota (Sioux) ceremony and ritual in an enlightening way.