For staff appreciation day, we started with breakfast in the school dining hall. Staff from the business office and maintenance shop don't get as much regular interaction with our students as teacher or houseparents do, and they seemed to enjoy eating breakfast and talking to the kids. I wandered around the tables to check up on everyone. I find out more about what's going on around campus in those settings than I do at staff meetings! The dining hall crew had to work for their own meal, but I hope they felt appreciated too.
A lovely couple from Sioux Falls, South Dakota stopped in to visit. They've been to our Akta Lakota Museum & Culture Center many times and make it a regular stop when friends and relatives not familiar with Lakota (Sioux) culture come to visit. But they've never seen the rest of what we do, and asked for a tour of campus. I met up with them while Jona was giving a tour. We get a lot of visitors in the summer, but not so many in February!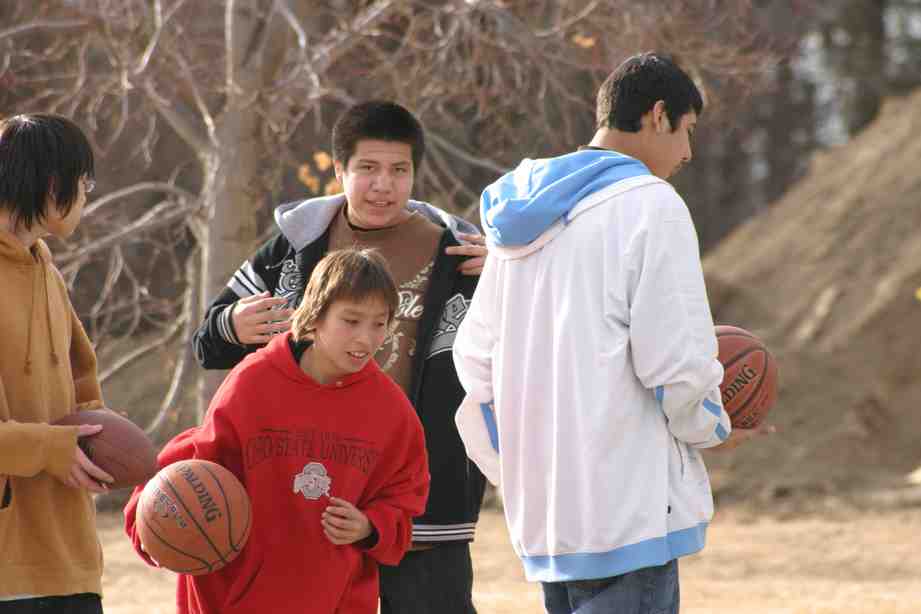 Today, was actually a wonderful day for a tour. The temperature climbed over the 60 degree mark, remarkable for February! After school when I walked around campus, I smelled beef on a grill, and my nose led me to the Speyer Home (6th-8th grade boys) where Mark, the houseparent, was supervising three students as they honed their own skills as cooks while grilling cheeseburgers for supper. I had to pass on that invite, for I was headed to Rooney Home (6th-8th grade boys) to join them for supper.  The guys were outside playing basketball, so I decided to test my leg and join them. The good news was I was able to dunk a few times. The bad news is that was on a 7 foot rim!  I'm walking around with no problems, but when it comes to running and jumping, I know what I want to do, but the legs don't follow my mind just yet. I'll keep up the exercise and therapy and keep trying for those incremental improvements.
We have a donor luncheon in the Milwaukee area in a few weeks, and this evening I met with two of our high school students, Shaylene and LaToya to help them prepare for what they want to say when they speak. Shay is a senior and has been at St. Joseph's Indian School for 12 years, so she has previously represented St. Joseph's Indian School. This will be LaToya's first chance and she's both nervous and excited. Both have a lot to say, and it was fun working with them.