As I walked through Wisdom Circle on my way to the Rec Center, I noticed one of our first grade girls sitting alone on a bench away from the other kids. I said, "You look sad – is anything wrong?" She had been playing tether ball, but when her time was up another girl came and played with her friend and she was feeling left out and probably jealous. While those are small things to us adults (hopefully we handle them OK) it was a big deal to her, and putting a damper on her whole day. Then another tether ball pole was  freed up and she was off to play, things right in her world.
Our girls had 4th, 5th and 6th grade basketball games against Chamberlain. There were plenty of St. Joseph's staff with children on the Chamberlain team. Practically everyone in the stands had divided loyalties, so there was lots of cheering for everyone. What the girls lacked in talent, they made up for in hustle and enthusiasm. It was particularly fun seeing the 4th graders go at it.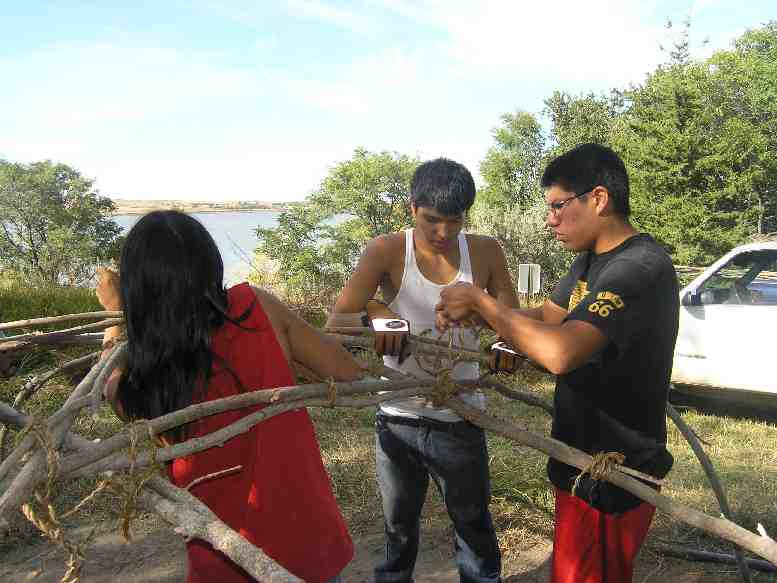 This afternoon was inipi – sweat lodge ceremony – for our teenage boys who wanted to participate. Several high school students served as mentors for 8th graders, a few who were going into the lodge for the first time. The grandfather of one of our students led the ceremony. I stopped by beforehand to see how the fire to heat the rocks was coming along. Mark, who works in the rec center, was the firekeeper. As the rocks heated up, one started to crackle and pop, which is dangerous in the small confined spaces. Since Mark has lots of experience, he culled that rock out with his pitchfork, and selected another that would be better. After the four rounds of prayer, everyone gathered for a traditional meal at Speyer Home.