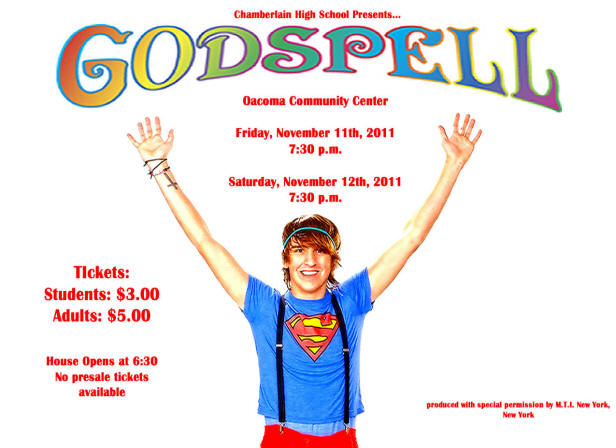 Chamberlain High School put on the musical "Godspell" in the local community center. I've seen the production three times in the past, and it made the words of Jesus come alive for me in a unique way each time. I've also seen that student crews who worked on it came away with a deeper sense of faith. During the preparation, I overheard our students commenting at mass when a gospel passage connected with what they were rehearsing.  What was different about this production, was the presence of the entire 7th and 8th grade Chamberlain choir, and many high school students as a chorus that ringed the stage and made the background vocals stand out loud. There are lots of laughs, but many poignant moments.
We had several students involved. Chris, a junior, had a solo and was prominent in many of the skits. Trinity and Michelle did all the makeup. Jatonne played guitar as part of the musical support. The entire lighting crew of four was staffed by our St. Joseph's Indian School youth, and others helped build the stage. Lots of staff kids' had lead roles, and it seemed like half the town crowded in to participate. At the end we opened our programs to find the music and lyrics to Handel's Hallelujah chorus. As the audience sang along, it sure lifted everyone's spirits.
To make opening night even more festive, on campus the date happened to coincide with a feast that Tia, one of our high school houseparents puts on. She is from Louisiana, and her hometown has a "coming home" festival at this time. She made two kinds of gumbo, jambalaya and dirty rice. Those who dipped their ladle into the gumbo pot and pulled up a hardboiled egg also won an envelope with prize money. It was also Mark's (the other houseparent's) birthday, so he had some of his favorite songs on the boom box and a huge cake with one candle for each one of his years of life.
After supper, I sat and talked with three of our four seniors about graduation. This crew has been at St. Joseph's Indian School for a lot of combined years. Erin arrived in 5th grade, Danisha in 3rd, Nick in 2nd and D'Kera in first (a lifer!) They've seen and experienced so much in their years at St. Joseph's. And since the kids live here, you really do see them grow up.