Greetings from a snowy St. Joseph's Indian School!
The weather continues to bring excitement in that you never know what will be next…  We had relatively warm temperatures (almost 40) on Sunday and then 4 inches of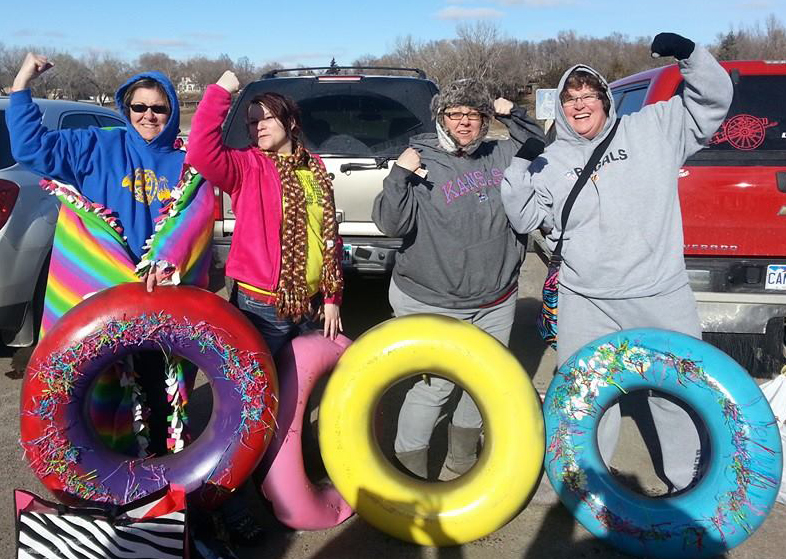 snow to wake up to Monday.  Ice and wind – plenty of wind – have also been plaguing the South Dakota prairie.
Comedian Steve Martin is noted for saying "I'm a wild and crazy guy" and, this weekend, 'wild' and 'crazy' things took place at St. Joseph's.  The 'craziest' was the polar plunge that took place before a large crowd on Saturday.  Local communities in central South Dakota have been hosting a 'plunge' as a fundraiser for the Special Olympics.
Four of St. Joseph's staff, calling themselves "Dunk'n Go Nuts," joined with 56 others to plunge into the Missouri River when the temperature was just 11 degrees with a wind chill of -5! Together, participants from Chamberlain and surrounding communities raised over $29,000.00! The announcer said this is the most money ever raised in this part of South Dakota for a first time event. The good news helped warm up all those polar plungers after their chilly swim!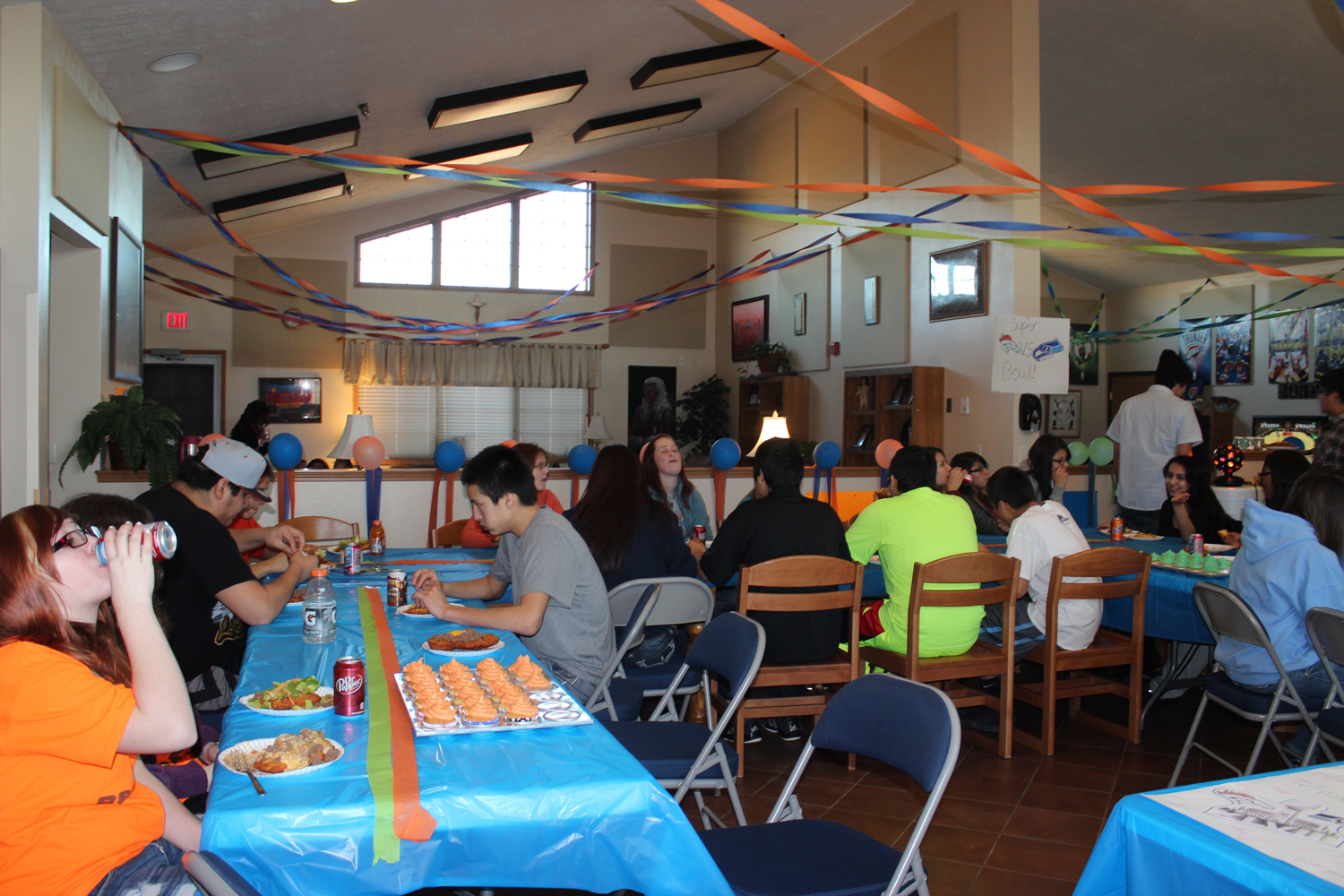 The 'wildest' was the Super Bowl party hosted by Sheehy Home (high school boys).  The young men in the home invited staff as well as high school and eighth grade students to come to watch the big game on Sunday and have some fun.
The home is divided into two living rooms. Normally, one is for television and one is for studying or reading. But on Super Bowl Sunday, it was divided into those supporting the Denver Broncos or the Seattle Seahawks! For those who preferred socializing over football, other activities were available, along with good old fashioned chatting.  Of course, there were also great snacks and even a few door prizes! The score may not have come out exactly as everyone hoped, but fun was had by all.
As you may be aware, St. Joseph's took part in Catholic Schools Week last week. During that time, a video was taken asking our Lakota (Sioux) students what they have
learned so far this year.
Several mentioned they felt safe, some enjoyed learning about their Native American culture and learning that God loves them. Of course, some simply said they have learned to swim and play basketball. But, most often, the Lakota children said they have learned respect – for themselves, others and elders – at St. Joseph's Indian School.
What wonderful news!
I believe this reflects the positive impact of the Olweus Anti-bullying program that has been implemented on campus this year.
There was also a touch of sadness over the weekend as we received word that one of three remaining students who were part of the founding student body back in 1927 had passed away. Mr. Orville G. Webb was 97 and had been married to his wife, Irene, for 74 years.  Sadly, she had just passed away about a week ahead of Orville. Please keep Orville and Irene in your prayers, and also lift up the family who lost their mother and father in such a short time.  Mary Jane, our Director of Alumni, and I were honored to attend the funeral and represent St. Joseph's.
Did you attend St. Joseph's Indian School? Let us know!
Hope all of you have a great week.  Thanks again for your generosity to the Lakota boys and girls!
Fr. Anthony Kluckman, SCJ
Chaplain
P.S.  Chamberlain High School's one act play, The Afghan Women, qualified for state competition which will take place this coming weekend. Several of our high school students are involved. Break a leg, kids!