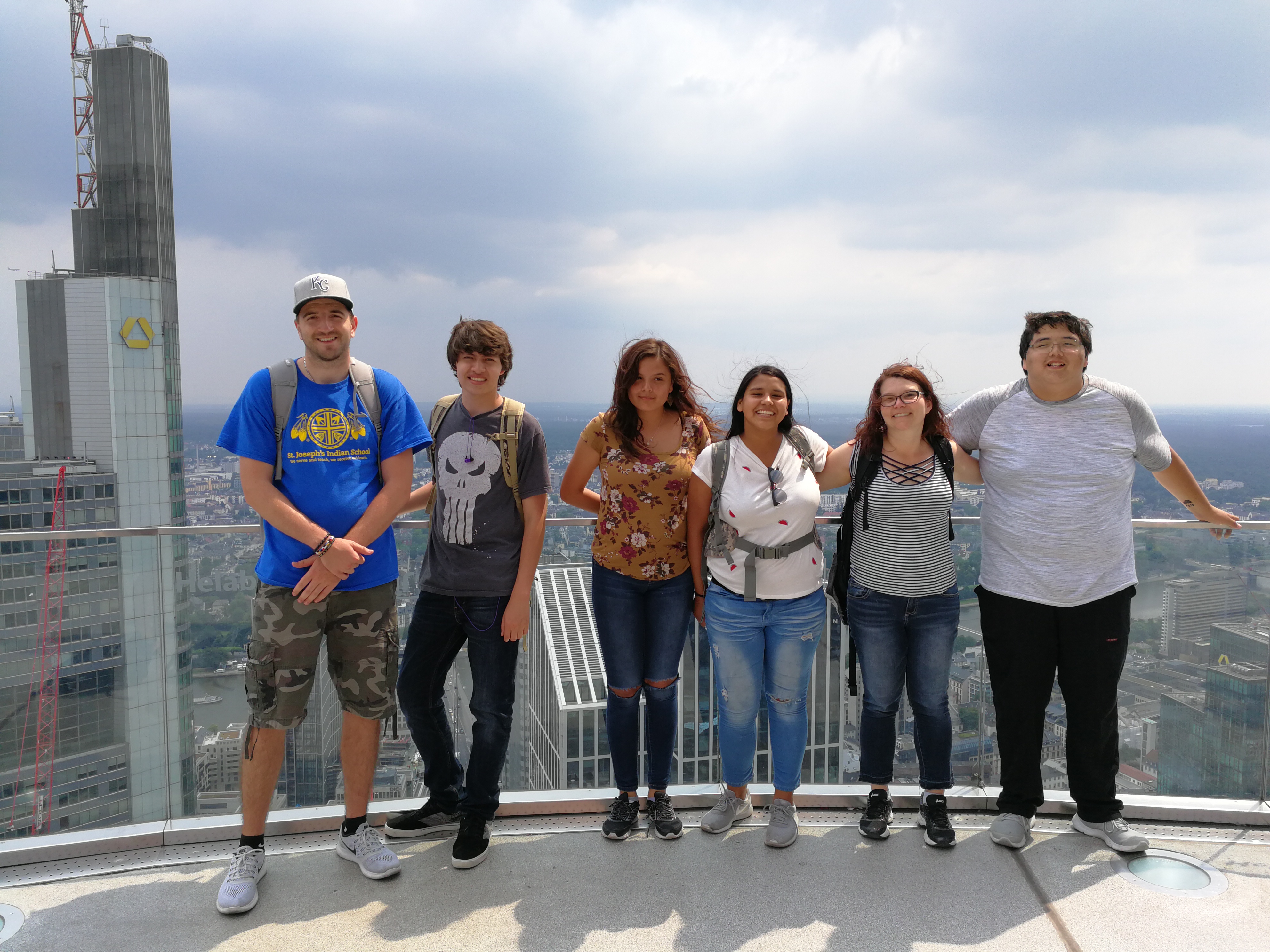 In June 2018, four St. Joseph's high school students and their chaperones visited Germany as part of an annual exchange program with Gymnasium Leonium in Handrup. Both founded by the Congregation of the Priests of the Sacred Heart, St. Joseph's and Gymnasium Leonium have partnered in an exchange program for more than 10 years. 
"I loved it!" said Camron. "It was a really great time. I enjoyed seeing all the different buildings and statues in the cities we visited, especially Berlin, with remnants of the Berlin Wall. I stayed with Bennett; my host family was very hospitable and had lots of good questions."
In the fall, German students will visit South Dakota and the group will return the hospitality shown to them on their visit to Germany.
"I'm really looking forward to showing Bennett and the others the Black Hills," said Camron.
In addition to spending time with host families, visiting Berlin and other adventures, Diana, Kayla, Camron and Richard, along with their chaperones Colton and Amanda, visited Frankfurt for two days. During this leg of their journey, the group met Nancy, European Marketing Director for St. Joseph's Indian School.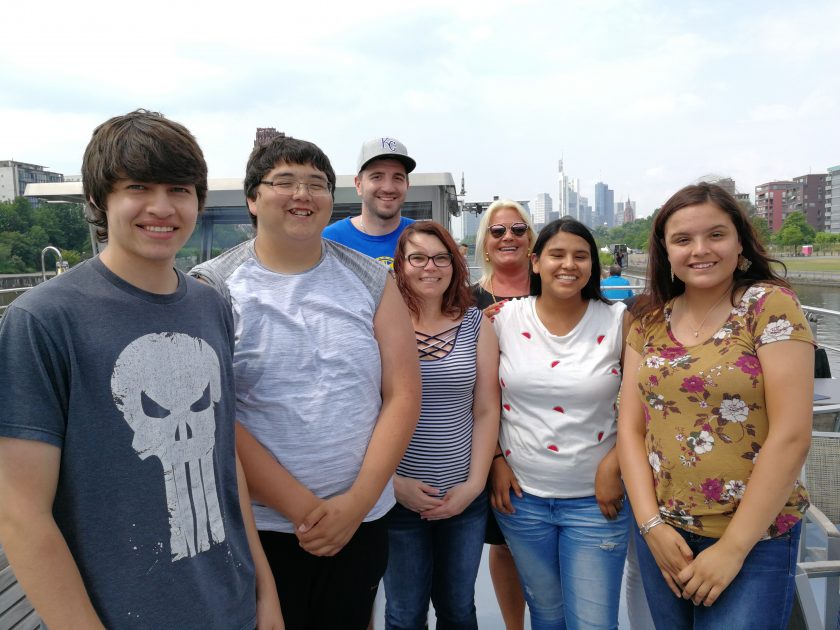 "At high summer temperatures of more than 30 degrees Celsius (86 degrees Fahrenheit) we started our exploration tour and first took the tram to the stop 'Römer'," said Nancy. This medieval building is one of Frankfurt's most important landmarks and has served as City Hall for more than 600 years.
"At the 'Römer' the students marveled at the old half-timbered houses," said Nancy. "It was something special for them that some of the buildings are hundreds of years old."
A boat trip on the Main was a very welcomed break from the summer heat and allowed students to see Frankfurt's important bridges and buildings at the same time.
The day ended with a walk from the "Iron Bridge" through the city to the Maintower. At lofty heights (56 floors!), the students enjoyed the excellent view of Frankfurt. They stood in awe as a thunderstorm approached from the Taunus, moving very quickly toward Frankfurt. Just in time, everyone was safely in the tram again, out of the storm.
German donors meet Lakota students in Frankfurt
On their second day in Frankfurt, students had the opportunity to meet donors from Germany. It was very exciting for everyone!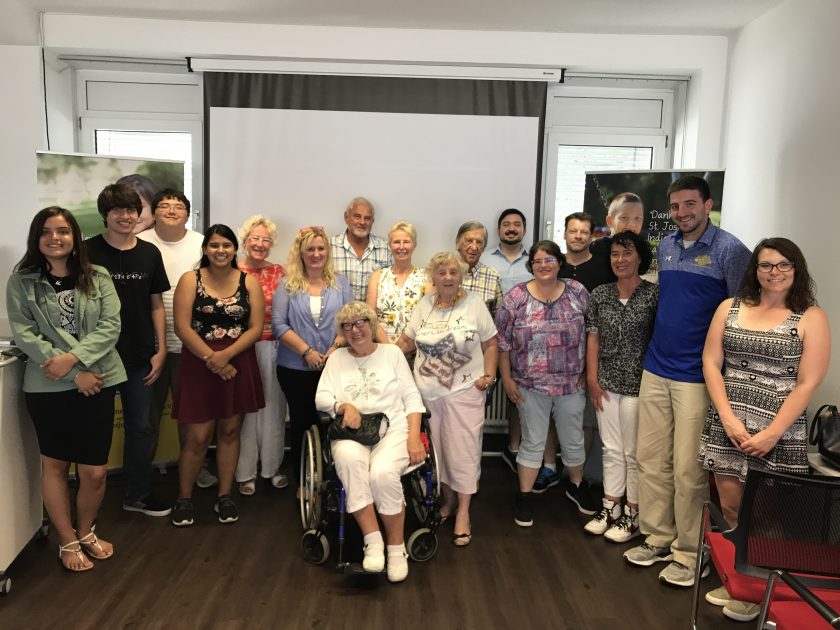 "I thought it was pretty cool to meet people who help support our mission from halfway across the world," said Colton, chaperone. "They seemed really interested to meet and hear from the kids, regardless of any language barrier."
Diana, Kayla, Camron and Richard each gave presentations on different topics, sharing with donors a little piece of their daily lives in the US.
Kayla's presentation dealt with the traditional powwow held annually by St. Joseph's Indian School. Kayla explained the different dances as well as the drum and songs to the guests.
Camron reported on archery, in the past and present.
"I've won first and second places at the Lakota Nation Invitational and Dakota Oyate Challenge," said Camron. "Also, I wanted to explain how archery has changed over the decades, from warfare to recreation."
Diana used the prom for her presentation. Unlike in Germany, the prom is of much greater importance in the US.
Richard was the last student to present and introduced himself as a descendant of Sioux Chief Edward Two Two. Richard shared with donors that his great-great-great-grandfather, who had worked as a police officer in the Pine Ridge Reserve in 1891, went to Germany in early 1910.
"At first he worked for Carl Hagenbeck's Zoo in Hamburg, later he performed with the Circus Sarrasani in Dresden and elsewhere in 1913," said Richard.
A year earlier, Karl May had died in neighboring Radebeul, and the entire region was still in "Winnetou fever." Because of the warm welcome in Dresden, Chief Edward Two Two decided that his heart should be buried in Dresden. He died on July 21, 1914. His grave in Dresden is still a pilgrimage site for many – it is the only grave of a chieftain in Germany.
Our German supporters asked many questions to the Lakota students and were very happy to meet them personally. After the presentations, everyone enjoyed conversation and refreshments.
Pilamaya – thank you – to all the donors who continue to be so committed to the Lakota students – without you, these life-changing experiences would not be possible!