"I wish camp was longer … or I wish we could stay at camp forever!" exclaimed Kenzi, an attendee of St. Joseph's 2018 Rising Eagle Day Camp (REDC).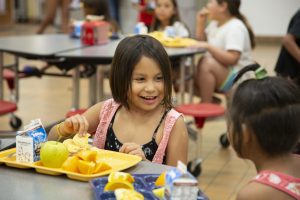 Every summer, St. Joseph's Indian School hosts REDC as an outreach programs for Lakota (Sioux) youth on the Lower Brule and Crow Creek Indian Reservations. The camp takes place on St. Joseph's campus the first four weeks following Memorial Day.
This summer, we were able to provide…
• 1,142 children over 3,000 meals, including breakfast, lunch and a snack.
• Opportunities to have fun learning the Lakota language.
• Time for creativity during arts and crafts.
• A way to cool off from the summer heat in the pool and with other water games.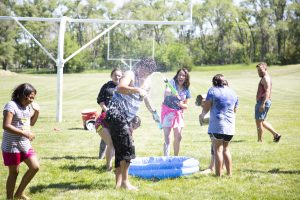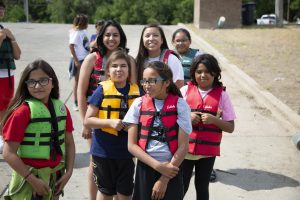 Mainly, we were able to provide a safe and secure environment for kids to be just that – kids.
And like Kenzi suggested, it's a lot of fun!
But what keeps children looking forward to coming to REDC every summer? Depending on the camper you ask, you'll hear a different answer.
"I like that we get lunch every day. I like the food a lot. It's good!" said Evana.
"I like swimming at the pool," said Breydan. "Swimming is the best!"
While others, like Samaya, like camp to connect to their Lakota culture with the hands-on activities.
"I like camp for arts and crafts and the language class," she said. "I like learning new Lakota words."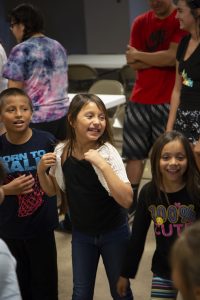 It might not be a favorite part of camp, but it's definitely important: St. Joseph's transports students back and forth 120+ miles every day by bus so they can attend camp without worrying about transportation.
"The kids were outstanding and had a great time," said Mark, REDC Director. "We appreciate all of the support we receive for REDC and can't wait for next year!"
It takes a village – not only to run REDC, but also to fund it, because families are never charged a fee for children to attend camp every day. We are so thankful for the support of you, our loving donors, who give to make programs like this possible.
Wopila tanka — many thanks — for helping St. Joseph's reach out and provide hope to Lakota (Sioux) children all year long!