Hello, my name is Celia and I am a Residential Coordinator here at St. Joseph's Indian School; I supervise houseparents in our first, second and third grade community. I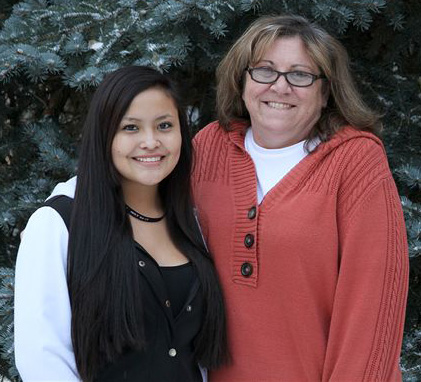 have been a part of the Children Count mentor program since 2002.
I wanted to be part of the program because so many of our Lakota (Sioux) children could really benefit from another positive adult relationship in their life. I have been matched with Martina since 2007.
She was in third grade when we were matched and is now a sophomore in St. Joseph's high school program – time goes so fast! I enjoy mentoring her because I feel like I can give her another person to talk to in her life. I can also be there for her if she needs someone to just listen.
We enjoy the activities scheduled by the mentor committee, like picnics, movie night and scavenger hunts, but also enjoy going out to eat or to the movies. I have watched her grow into a nice young lady, and she has so much potential to do great things in the future!
I feel that our time together has been beneficial for both of us. Martina has also said that she feels having a mentor has helped her through the years.  I look forward to continuing our relationship as she graduates from high school and continues her journey through life.