Greetings from St. Joseph's Indian School!
The weather is in the news again.  It snowed heavily Monday afternoon and is supposed to be cold the rest of the week.  Some of the local school districts shut down early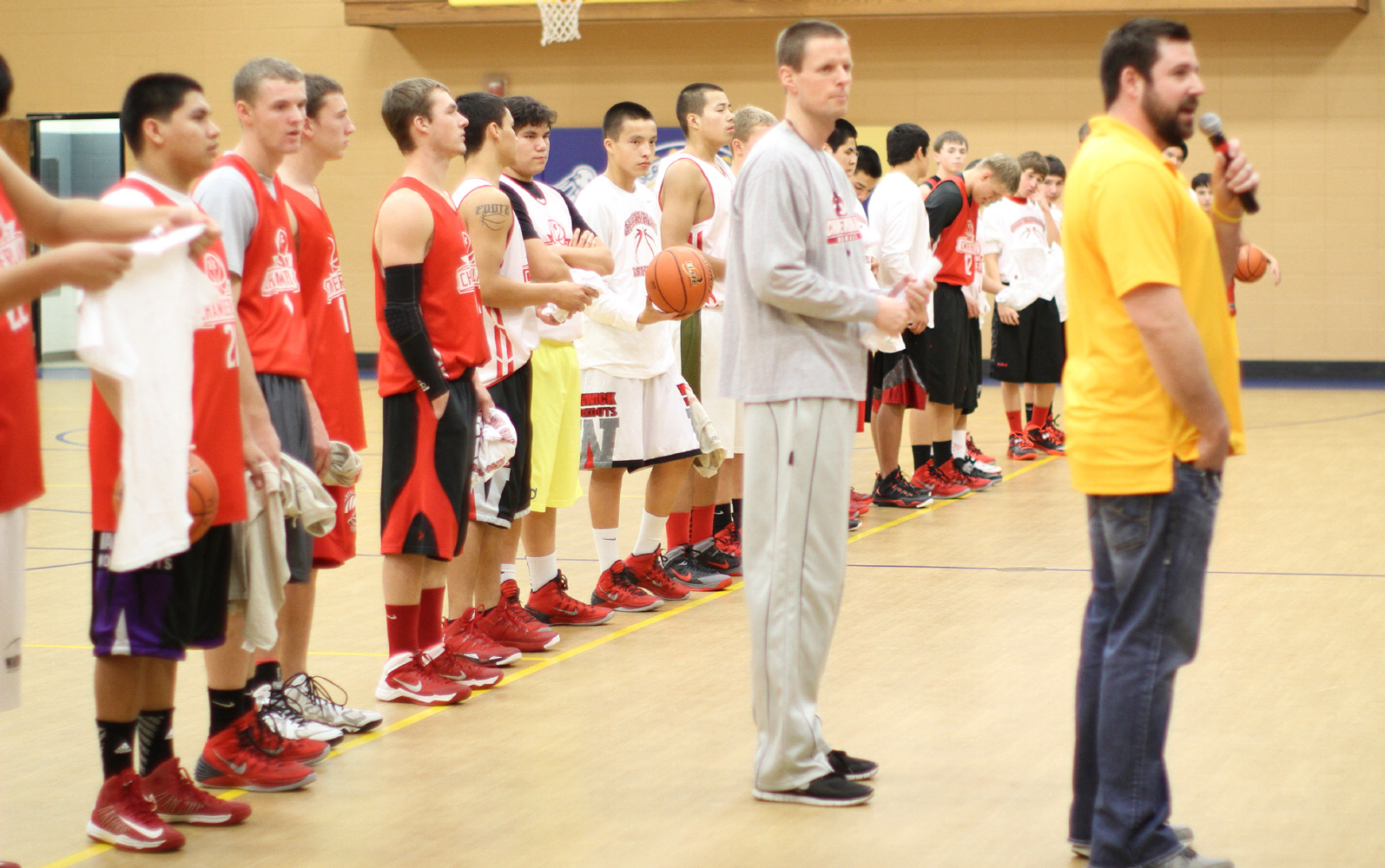 to get students home safely, and started late this morning.
The basketball season for the students at St. Joseph's and Chamberlain High School is winding down.
Our sixth, seventh and eighth grade teams have their final games Thursday at Todd County. St. Joseph's Inter-city league will end Sunday.
Play-off games for the boys' and girls' state basketball tournament are about to begin for our high school players.
Allan, coach of the Chamberlain Cubs varsity boys, invited St. Joseph's fourth and fifth grade teams to come into the locker room Friday to experience pre-game preparation and the coach's pep talk to the team. Allan's wife Shelby is a teacher at St. Joseph's; we're grateful for the connection and his efforts to encourage the Lakota students to be part of the high school team.
Friday night was also parents' night! St. Joseph's players presented flowers to their houseparents if their own families were unable to attend.
Our Alumni Liaison, Mary Jane, has recently been reviewing scholarship applications and had some great news to share about former St. Joseph's students and scholarship recipients:
Andrea is working towards her LPN in Lake Andes, South Dakota.
Nicole is studying to be a Paramedic in Rapid City, South Dakota.
Elijah is taking athletic training at SDSU in Brookings, South Dakota.
Keenan is taking Liberal Arts at Haskell Indian Nations University in Lawrence, Kansas, where Sheena is also studying Business.

Cody, one of St. Joseph's seniors, is on the basketball team.

Savanna is working on a BSN in nursing at the Kramer School of Nursing in Oklahoma City, Oklahoma.
Jeannine is taking nursing at Oglala Lakota College in Kyle, South Dakota, along with Michelle who is working on an AA in nursing.
Erika is taking Digital Film & Video Production at The Art Institute in Minneapolis, Minnesota.
Marilyn (Health Information Management) and Weylin (Transportation Tech/Heavy Duty) are both looking forward to graduation in May from Western Dakota Tech in Rapid City, South Dakota.
Claudia is taking online courses working on becoming a Health Coach through the Institute for Integrative Nutrition in New York while she works for the Lower Brule Sioux Tribe as a Youth Care Manager.
Pilamaya – thank you – for your generosity! The gifts you give help these Native American students prepare for their futures and develop skills they can bring back to their tribes and communities. You are making a real difference!
May God continue to bless and reward you for your generosity for the ongoing needs of the Lakota boys and girls. Have a great week!
Fr. Anthony Kluckman, SCJ
Chaplain