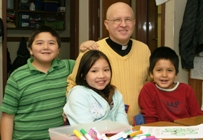 New Staff
This morning I welcomed our seven new houseparents and one new teacher as they began their week of orientation. Three are South Dakota residents; one couple is from Michigan. The others represent Oklahoma, Louisiana and Ohio.
We get the most geographic diversity within the houseparent job. Most of our staff have local roots. The newcomers bring lots of enthusiasm, plenty of questions, and a little bit of anxiety as they tackle this new endeavor.
Mike, our Executive Director of Child Services, spoke about his first years as a houseparent. There are days that are fun and memorable; other days when the students frustrate and upset you terribly. He encouraged everyone to work through both the good and the bad. It's the whole mix of admiring kids at their finest, and working with them at their lowest, that really makes the job get into your blood.
Doctor visit
Speaking of blood, since my clotting factor was too high last week, I had more blood work today. My level stabilized and is where the doctors want it.
Our Tiyospaye – extended family
Darby – who works on our computers – was back at work today after becoming a brand new Dad for the first time last week. His wife and son are both doing well. He just needs to have a "man-to-man" talk with his son about keeping it a little quieter in the middle of the night.
Encounters like this remind me that besides the students we serve and friends like you, our staff have family and loved ones that become part of our Tiyospaye – extended family.