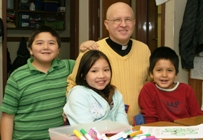 During the school year, Sundays can be anything but a day of rest. However, today was very peaceful. I had plenty of time for reading and prayers. Several phone calls came in from family and friends that lifted my spirits.
The only real work I did occurred when a donor arrived with a truck load of non-monetary goods; I was the only person he could find on campus. I helped him unload, and tomorrow Central Receiving will have their hands full once again.
I ventured out to the campus recreation center to see how much of a workout I could do. I increased my time and speed on the treadmill, and the soreness in the foot was more easily put out of mind with a closely fought baseball game on the TV. I'm not much of a weight person; but I worked on some upper body strengthening, since that part of me feels fine.
Tomorrow our new Child Service's staff – 7 houseparents and 1 teacher – arrive and start their orientation. While the calendar still says we have much more summer left, tomorrow our summer at St. Joseph's comes to an end.