Urgent prayer request! There is an affliction running through our eighth graders and seniors in varying degrees of intensity. The kids are displaying bouts of talking back, reverting to behaviors from early in their development, flat out disrespect and little to no signs of gratitude. The official and technical term for the affliction is "eighth-grade-itis" or "senior-itis."
This affliction develops in kids who are focused on their next life change and transition. The anxiety of what is ahead and trepidation about the new and unknown causes our kids to act out in ways we haven't seen from them in a long time.
Yes, I say that our kids are afflicted in an effort to make humor during a very stressful times…
Yes, we see this every year with the eighth graders and seniors.
Yes, our experienced staff know that this too shall pass, and help less experienced staff members through this challenging time.
Yes, we will love the kids through this.
Yes, we are just as anxious and nervous about the kids' futures as they are.
Yes, we are proud of all the little victories as well as the major accomplishments.
Yes, we are grateful for all we have.
Yes, every other household out there with kids who are graduating or transitioning in some way is going through the same difficulties.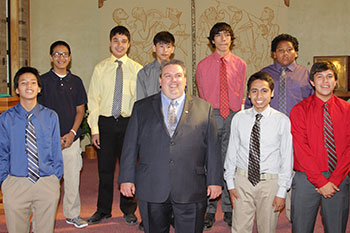 Despite these challenges, we are proud of all of our students! We are proud when our eighth graders finish out their year well. We are proud to watch our seniors walk across the stage and receive that diploma they worked hard for in the face of all the odds against them. We are proud to watch our seventh graders begin to mature into our next leaders of the school for the coming year. We are proud to look back and see the skills all our students have displayed over the course of the year – skills we helped teach them.
We are also reminded to be grateful for our mission and purpose. Grateful for our kids, their families, our co-workers and supporters everywhere. We are grateful we accepted this mission as our own and have the ability to continue to pick up the challenge of working with our kids.
We have all been through these times in our own lives – not knowing for sure what the future would bring. Not wanting to be dependent on our adults. We pushed away our own adults, displayed challenging behaviors and, at times, acted younger than we should have. Our kids, and kids everywhere, are experiencing these feelings.
It's our job, our mission and our privilege to help them through this. As the school year comes to a close, we hope to teach our kids one more lesson in perseverance and getting through a stressful time.
And of course, the kids and staff always need your prayers.
Thanks for being part of our mission,
Frank
Residential Coordinator, Grades 7-8