St. Joseph's high school staff works hard to help students prepare for the future. Krista, our Transition Specialist, assists students with applications, scholarships and more, but also plans visits and activities throughout the school year.
Recently, representatives from the South Dakota State University (SDSU) College of Pharmacy visited St. Joseph's Indian School as part of an effort to show high school students the hands-on aspects of a career in pharmacy.  The school's Professional Academic Advisor for the College of Pharmacy, Nathan Bylander, along with a few SDSU students, created an atmosphere of learning within three lab stations.
In the first station, one pharmacy student instructed the St. Joseph's students on how to take blood pressure.  The students alternated applying the blood pressure cuff and providing the results to their partners. Another pharmacy student demonstrated shot administration at the next station.  The students filled vials with saline solution and administered the shots to the mannequin aids—not each other!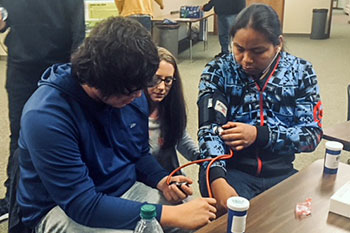 Comments from "That felt different than I thought it would feel" to "I hate needles" could be heard around the station.  Nathan assisted students with compounding in the last station.  However, instead of grinding aspirin and mixing it with a cream, St. Joseph's students ground Smarties and mixed the powdered candy with frosting.  The edible experiment was a success!
The visit serves as of one of the ways high school staff provides opportunities for students to learn about educational and career options.  As part of the High School Program at St. Joseph's, students have the opportunity to visit several colleges throughout the school year. This year, students have visited Black Hills State University, the University of South Dakota, Mitchell Technical Institute and Dakota Wesleyan University.  Some of the high school students also had the opportunity to shadow with local business owners — from accountants to welders — as well as speak with military recruiters and veterans.
St. Joseph's also held a job fair.  During the job fair, students interviewed for summer employment on campus as part of the Summer Program.  The Summer Program allows students the opportunity to live and work on campus as well as complete the driver's education program and earn their license.
These are just of few of the many ways the staff in the high school program works to ready students for life after high school!