What a busy week it's been at St. Joseph's Indian School!
Last Saturday, we held sacramental preparation for those Lakota (Sioux) students who have chosen to take this step with the support of their families. We have 21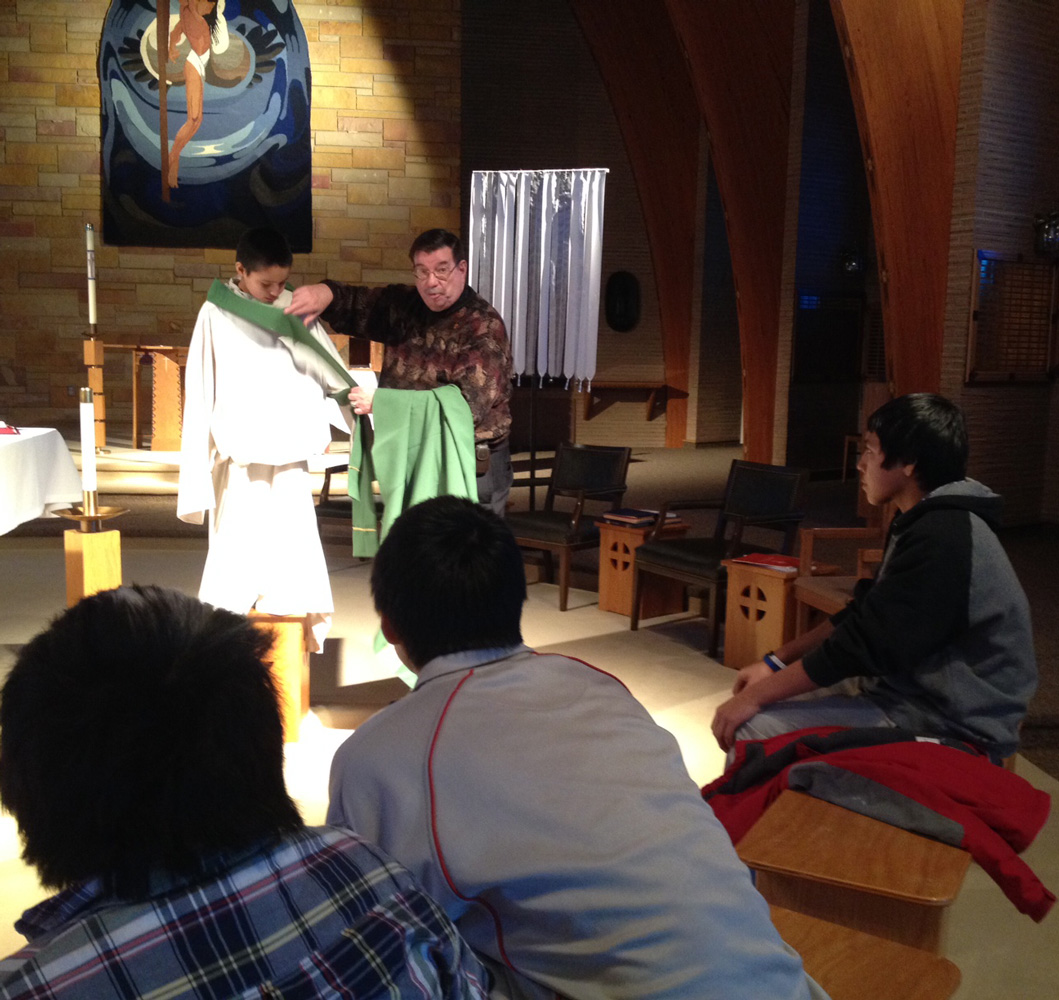 preparing for all three Sacraments of Initiation — Baptism, First Communion and Confirmation and five preparing for First Communion.
The students' families were invited to come and take part as the children had different sessions learning about the gifts of the Spirit, bread making, the stoles they'll wear at Baptism, and an explanation of the vestments worn and items used in the celebration of the Liturgy.
However, a snowstorm forced some changes in plans and only a few families were able to come.  The students will receive the Sacraments on April 27.  Please keep them in your prayers over these next few weeks.
On Sunday, the Knights of Columbus used St. Joseph's rec center gym to host the statewide finals of their annual free throw contest.  Participants from all over South Dakota were able to come and shoot it out.  The atmosphere was tense and focused – you could have heard a pin drop as contestants took their turn.  St. Joseph's own Keshaume placed fifth in his category!
Monday saw the local religious community have a day of recollection offered by Fr. Wayne Jenkins, SCJ, who is the archivist for the Priests of the Sacred Heart (SCJS). He gave us a reflection on the Last Supper and the Triduum of Holy Thursday, Good Friday and Holy Saturday. He was excited to visit St. Joseph's campus and see the new Alumni & Historical center that has been added to the Akta Lakota Museum & Cultural Center.
Tonight, the Chamberlain High School Cubs will host Miller in a regional play-off basketball game.  The boys had a tough fight when they met this opponent during the year, so it should be an exciting contest.
The CHS Lady Cubs won a thriller last week when they beat Cheyenne Eagle Butte 55-53.  It went right down to the wire! The Cubs were almost knocked out by a former St. Joseph's student, Jaylnn, who transferred to Cheyenne Eagle Butte – she had 14 points and was tough defensively.
The girls' next game is Friday night when they play Winner, a team that was 19-1 during the regular season.
I hope you have a great week! May God bless and reward you for your generosity for the Lakota boys and girls!
Fr. Anthony Kluckman, SCJ
Chaplain