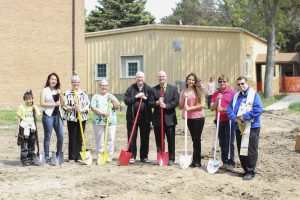 It's been a project over a year in the making, but soon St. Joseph Indian School's new Health and Family Services Center will be up-and-running. To celebrate this new facility, there will be an open house and ribbon cutting during St. Joseph's powwow celebration. The public, students and their family members are welcome to attend on Friday, Sept. 15, 2017 at noon.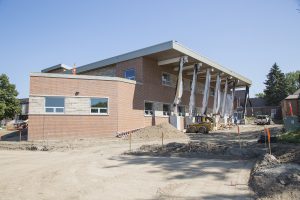 "We've watched this project go from just an idea to something truly incredible. It's great to know this project is nearing its completion," said St. Joseph's President Mike Tyrell.
The new Health and Family Services Center broke ground in May 2016 and will replace the current Freimann Healthcare Center, which was formerly the nuns' convent from St. Joseph's earliest days. However, the current facility is not compliant with the Americans with Disabilities Act (ADA), nor does it provide the privacy essential to discuss confidential health information with students and their families. This new center will enable our organization to better meet the healthcare needs of the over 200 Lakota (Sioux) students attending St. Joseph's Indian School and their families.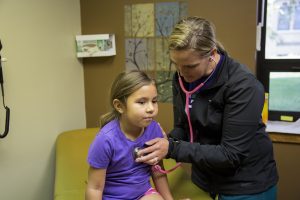 "Leading healthy lives in all aspects – mind, body, heart and spirit – is so important, and is something we at St. Joseph's are passionate about," said Mike. "We hope you will be able to join us on this momentous day of celebration."
The open house and ribbon cutting will take place during the annual St. Joseph's Powwow, September 15 and 16. There are many other activities going on during powwow weekend  – we hope you can join us!