It was 18 months ago when I went for the recommended turn-50-get-a-colonoscopy-check-up, that the Doctor discovered the Sarcoma. Now that I'm back in good health, it was time to go ahead with that procedure, so I spend yesterday drinking all the fluids and wearing a path to the bathroom.
Today the tests went quickly and well, and they found no problems, praise God.
Since I've had cancer, any trip to the doctor brings with it a bit of anxiety; worried about what they might find next. It's reassuring to get a clean bill of health. I still get notes that many people are praying for me and my prognosis continues to look good.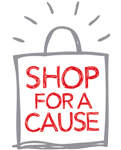 Clothes shopping for me isn't all that complicated, since I mostly wear black slacks and a clergy shirt. But for those of you who shop at Macy's, they have partnered with St. Joseph in a "Shop for a Cause" campaign. If a donor purchases a $5 Macy's coupon, available on our website, they receive 25% off at Macy's stores and macys.com on Saturday, August 27th!
The great news is that St. Joseph's gets to keep 100% of the proceeds!
You can learn more about it on St. Joseph's Indian School's website!