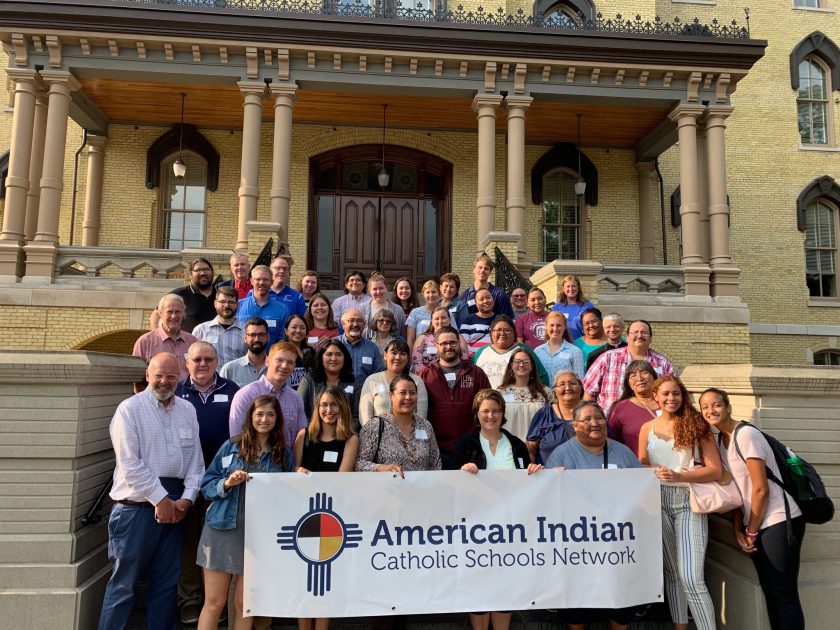 The following is a reflection written by Joe, St. Joseph's Director of Mission Integration.
On September 2, 2020, St. Joseph's Indian School accepted the invitation to become the eighth member school of the American Indian Catholic Schools Network (AICSN) of the University of Notre Dame.
If you've ever had a chance to walk on the campus of the University of Notre Dame, you will know exactly what I'm talking about when I say there is something special about that place. Whether you've walked the campus as a child or as an adult, on a Saturday in the fall before a Notre Dame football game or in the solitude of a warm summer night, you feel its sacred presence. There is something about that campus, the faculty and the students that make the university special. You feel the holiness on the grounds of the University of Notre Dame.
Many miles west of the Notre Dame campus is another Catholic school. Like Notre Dame, once you walk onto campus, you feel a sense of sacredness and holiness. This place is St. Joseph's Indian School in Chamberlain, S.D. When I think of these two schools, there are so many things in common. These similarities include the academics, the Catholic education, the culture and the mission of working with students to assist them in becoming the best version of themselves — the version God created for them. Both of these campuses have a sacredness about them.
A former Notre Dame football coach once said, "To those who know Notre Dame, no explanation's necessary. To those who don't know, no explanation will suffice."
When I think of this quote, I think how similar it is to St. Joseph's. To those who have a connection with St. Joe's, they know what this place is all about. They know of our mission. When a donor or an outsider asks me to explain what St. Joseph's is, I always tell them, "Simply come to campus and see what we do. It is too hard to explain all of the things that we do, no explanation will suffice."
With St. Joseph's Indian School becoming the eighth member of AICSN, the school's future will continue to grow strong. The possibilities of collaborating with other Native American Catholic schools are endless. As we continue to move forward and build on our school's previous successes, knowing that the prestigious University of Notre Dame is only a phone call or email away only makes our future projects that much more exciting.
St. Joseph's wants to be a model of success for other schools, and with the connection of Notre Dame, we can continue to move forward with our goals. Knowing that we can help Notre Dame and have that favor returned is a special feeling for our staff as well as our students. Our partnership with Notre Dame and other AICSN schools only improves our mission and the work we do with our students and families.
AICSN began in 2013 at Creighton University and included five reservation schools. In 2017 it came under the direction of the University of Notre Dame's Alliance for Catholic Education (ACE). In 2019 the network grew to include De La Salle Black Feet School in Browning, Mont., Red Cloud Indian School, Pine Ridge, S.D., St. Augustine Indian Mission School, Winnebago, Neb., St. Charles Mission School, St. Carlos, Ariz., St. Joseph's Mission School, San Fidel, N.M., St. Mary's Mission, Red Lake, Minn. and St. Michael Indian School, St. Michaels, Ariz.