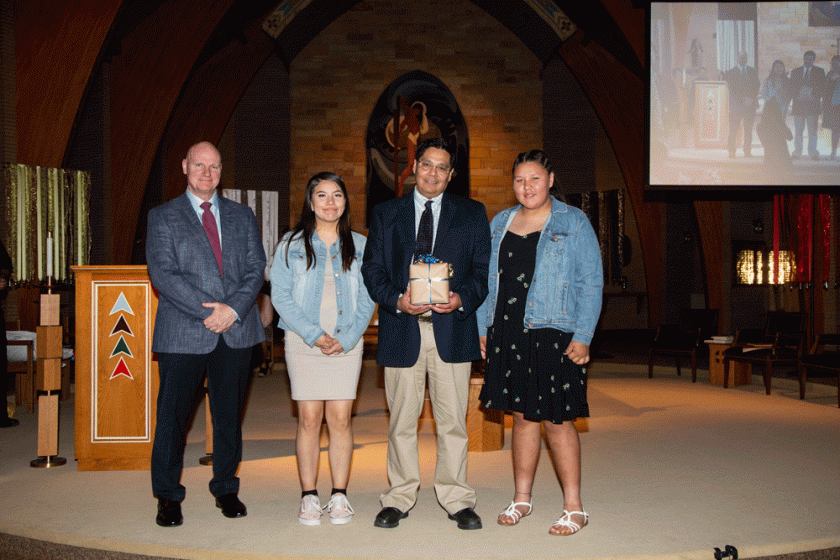 St. Joseph's Indian School is pleased to announce Dr. Billie Kingfisher, Jr. has received the 2019 Distinguished Alumnus Award. Billie attended St. Joseph's from 1976 – 1982, graduating with the eighth grade class of 1982. He is an enrolled member of the Cheyenne River Sioux Tribe.
"I met Billie when he first came to St. Joseph's 1976," said Andy Lepkowski, St. Joseph's Alumni Liaison. "Those of us who worked with Billie always thought he would further his education – he did so well in school. He was always a hard worker and joy to be around. It's wonderful to have him back on campus as our Distinguished Alumnus award winner."
After high school, Billie joined the military. He proudly served in the prestigious 82nd Airborne Division and with the 3rd Infantry Regiment in the United States Army.
After more than six years in the military, Billie went to college, continuing his education at the University of South Dakota, where he earned his bachelor's and master's degrees in Native American History. In 2016, he completed his PhD at Oklahoma State University.
Kingfisher addressed St. Joseph's eighth grade graduates and their guests, encouraging everyone to rely on three things in life – pride, perseverance and prayer.
"Be proud of who you are," Billie told the graduates. "You come from good people. Things might not always go the way you want, but persevere. Life is hard. Unfortunately, you will experience hard things but persevere and don't be afraid to ask for help. Remember also to always be willing to accept help – we can't do these things alone.
Always pray and be mindful of our traditions – both Catholic and Lakota. All of it will help you. As you go out into the world, don't think the small things don't matter. It matters to be a good husband or wife, a good parent. Be a good person in your community. If you love and take care of one another, you can do extraordinary things with your life. Remember you are the future. You will be making decisions for yourself, your families, your tribe. Love, take care of one another, and you can do extraordinary things with your life."
Today, Dr. Kingfisher is an independent scholar researching Native issues, including the influence of basketball in Native communities and the history of tribes in South Dakota. He and his wife Megan Taylor have three children.
Professional Experiences:
Assistant Professor, South Dakota State University – (2016 -2017)
Dissertation Fellow, South Dakota State University – (2016 – 2017)
Airbourne Hertiage Day Committee Chairman – (2005 – 2011)
Law & Drug Coordinator, Santee Sioux Tribal Police Dept. – (2008 – 2009)
Test Proctor, Psychological Services Inc. – (2002)
Research Assistant, University of South Dakota – (2001)
Doorkeeper, U.S. Senate Sergeant-At-Arms – (1999 – 2000)
Staff Assistant, U.S. Senator Tom Daschle – (1998 – 1999)
Education:
2016 Ph.D. History, Oklahoma State University
2009 M.A. History, University of South Dakota
1997 B.A. History, University of South Dakota