We can describe our campus, students, staff and powwow until we are blue in the face, but it's when you have the chance to experience St. Joseph's Indian School in-person that the message truly sinks in. At least this was the reaction expressed by the nearly 500 supporters who attended the St. Joseph's Indian School 41st Annual Powwow weekend, Sept. 14-16, 2017.
"Campus is just wonderful – it's beautiful," said Mary, a supporter from the Chicago area who was experiencing her first visit to St. Joseph's Indian School. "It's bigger than I expected, too!"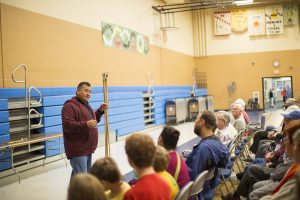 Along with exploring St. Joseph's campus, which includes 20 residential homes, a school, health facility, Rec Center, Akta Lakota Museum and more, supporters attending the weekend's festivities took in a demonstration of traditional Lakota hand games and crafted their own dreamcatcher, among other things.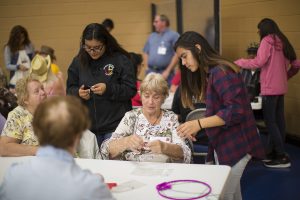 "The dreamcatcher workshop was a blast. We were surprised at how much patience and time it takes to make them," said Laurie, a supporter from Oklahoma, noting it was the first dreamcatcher she had ever made.
For some donors, coming to powwow was a gift to themselves, but for others it was a way to honor relatives who have passed away who had a heart for St. Joseph's mission of serving the Lakota children.
"My mother was born in Fort Pierre, S.D. (about 80 miles northwest of Chamberlain, S.D.), and anytime she was in South Dakota she would come to St. Joseph's and bring pencils for the kids and that sort of thing," said Mary. "She got me and my sisters involved with giving to St. Joseph's when we were very young and we just never had the chance to come until now, and it's been great!"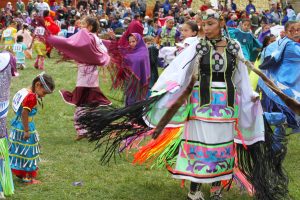 Although the St. Joseph's campus and donor workshops were a big hit, the event that had everyone talking was, not surprisingly, the powwow.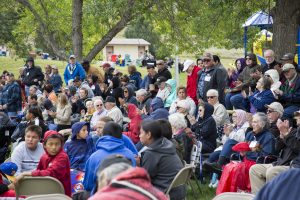 St. Joseph's donors were taken aback by all the colorful regalia, the rhythm of the drum and the dance movements of the 41st Annual St. Joseph's Powwow – even if it meant bundling up in coats and blankets, as a crisp fall day presented itself. But a little chill couldn't put out the fire inside of the dancers or the spectators.
"Our family's first trip to join in the 41st Annual St. Joseph's powwow was a great time," wrote Tahnee, a supporter from Colorado, on Facebook. "We're very honored to have spent time meeting with staff and touring the campus – very well put together! I'm glad we made it to enjoy this year's wonderful gathering."
Other reviews from Facebook:
"Awesome weekend! Great students and staff! Well disciplined, beautiful campus! Excellent Pow Wow!! Super!!!" – Jenni P.

"The museum was beautiful and all the staff were friendly and helpful. The Pow Wow was awesome and the generous dinners were great. Thank you for your generosity." – Tamira B.V.
"We just returned from a weekend spent in Chamberlain, SD, as part of the powwow and open house. We had a wonderful time and was glad to learn more about the school. My husband has mobility issues and they went far above and beyond in helping me get him in and out of buildings, assisting us in every way possible. I was able to see their work at school and their home environment. Any group style living can bring challenges. I was glad to see and hear staff and students thriving. We owe a huge debt to the Native Americans. I hope my small part helps them continue their honorable work." – Susan S.
Thank you to everyone who drove or flew many miles to make it to the St. Joseph's Indian School 41st Annual Powwow weekend. We hope the journey was worth it and we hope  you can join us again one day!
If you were unable to attend the 41st Annual Powwow, check out our YouTube channel where you'll find videos documenting the day. For photos, view our powwow Flickr album, or Like us on Facebook for everything in-between!
Also, get a review of our powwow straight from a visitor by reading this SCJ blog post!