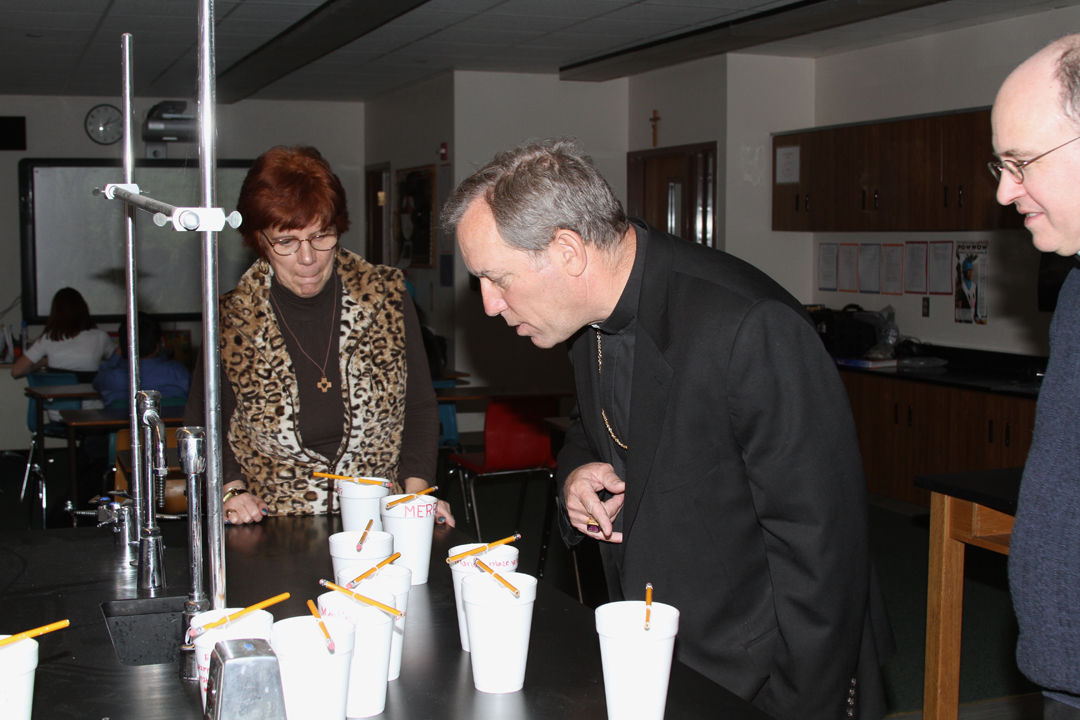 Rapid City Bishop Robert Gruss, who was just ordained Bishop six months ago, visited us today for the first time. While we are located in the Sioux Falls Diocese, more of our students are actually from West of the Missouri River and in his diocese. As he travels, and people hear he works in South Dakota, countless people have asked him if he knows St. Joseph Indian School, and he was very interested in discovering more about our school and programs. I accompanied him for almost five hours and enjoyed the company of a kind and faith filled shepherd.
I gave the lengthy, deluxe campus tour. In the Akta Lakota Museum, Vickie shared how we provide a place for visitors to learn about the history and culture of the Lakota (Sioux) people. Frank, our 6th– 8th grade residential coordinator gave the Bishop a tour of the Rooney Home and explained everything from student chores and laundry schedules, to security measures in the homes, to our four tiered phase system, where students can earn more privileges as they make progress on their personal goals.
We stopped at the Health Center where Nancy, Ronda and Connie look after the health care needs of our students.
Fr. Anthony put together a school wide prayer service. The Bishop told our Native American students about his growing up years, and reminded them that God has a plan for each of them. He used the image of a jigsaw puzzle where we don't see the big picture until its complete – but prayer helps us to see God's hand in all things as we grow.
Our Chalk Hills Singers drum group sang a honor song, and our Powwow Royalty presented him with a picture of our student body and a snow globe replica of our Lady of the Sioux Chapel.
While we were shaking hands with the students outside of chapel, the line that made me laugh the most was when one of our students saw the golden chain connected to the Bishop's pectoral cross inside his shirt pocket.
"Can I see your bling-bling?" he asked!
We sat with a group of 5th grade girls in the dining room for lunch. That crew is usually very talkative, but it took them a little while before overcoming shyness around a stranger and eventually opened up.
Julie gathered four of our family service counselors who talked about the backgrounds of our American Indian students and their families and issues they face. Bishop Gruss asked lots of good questions to help him understand the people he is serving.
Kathleen, our principle, led us on a tour of the school. Brock demonstrated one of our smart blackboards. The third graders in Native American Studies class demonstrated both traditional powwow and hoop dancing. Bishop Gruss let out a big laugh when one of the songs the kids danced to was "Old Macdonald" sung in 49er powwow style.
We ended the day in the Development Office, for a tour of the work our staff does there, and some coffee and cookies. Next time someone asks the Bishop if he knows St. Joseph's Indian School, he'll have some good memories and a good sense of what we're all about.