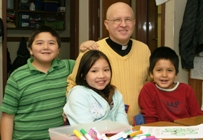 St. Joseph's renovations
I didn't have many meetings today, so I was free to move about campus and check in on what's been going on.
I talked with Tom, head of our facilities department. Tom updated me on all the summer projects our maintenance crew has been up too. It's obvious what they do when you see one of the homes being gutted and remodeled.  There's so much behind-the-scenes work that goes on; people may not notice.
The campus was surveyed for drainage to improve problem spots. The electrical system on our geothermal Templifier was upgraded, so we won't have problems heating the campus this winter.  Our crew takes great pride in all that goes into keeping the campus safe and beautiful.
I checked out our pool after it got a paint job and a new surface on the surrounding deck. I ran into Patrick, a houseparent I hadn't seen for about a month. There are so many folks on campus I so enjoy sitting down to share with … even if I only take a few minutes to catch up.
Silent auction brings new friends
There's been lots of activity at the pavilion where we've been silent auctioning off furniture we've replaced over the years.
First, we gave staff on campus the chance to look over what we have and switch out anything they could use for offices or campus homes. Now, we're making a few bucks and clearing out needed storage space. Seems like the biggest spenders were parents of college kids, looking for some worn but usable couches and chairs for setting up an apartment. You'd think they'd buy more of the bookshelves, but no!
Our Lady of the Sioux chapel visitors
Over at the chapel I saw a man kneeling in prayer and another looking at the artwork. I turned on more lights so they could get a better look. They were two priests visiting from Massachusetts, on the way to Alaska. I answered questions about the school until their traveling companions showed up and urged them to hit the road on their westward journey.
Fr. Peter, an SCJ from Ottawa Canada, also surprised us with a visit. He'd been on a tour of many of the National Parks, and just stopped in for a cool drink and the chance to say hello before he continued his journey east. We're at a real crossroads this time of the year, but don't get a whole lot of visitors in February!