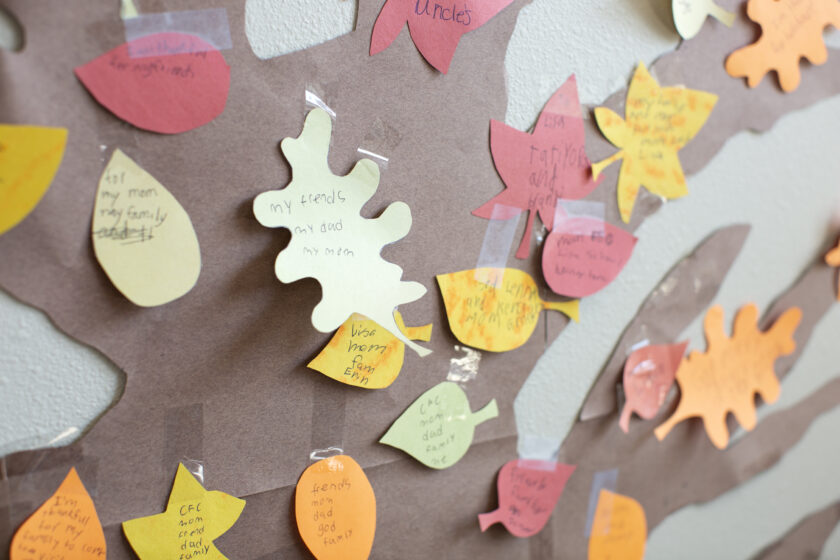 The following is a guest blog written by Erin, a St. Joseph's Indian School Family Service Counselor.
As the leaves begin to change and then blow away in the bitter winds of fall, people start to decorate for Thanksgiving and prepare to celebrate all that they are thankful for. This Thanksgiving may look very different for many families as travel restrictions, quarantines and COVID-19 precautions hinder many from gathering in the traditional sense.
However, the season of thankfulness supersedes a single holiday. Despite a challenging year filled with change and loss, gratitude can make what we still have enough to sustain us through what lies ahead.
In the Bible, Job was described as, "… the greatest of all the people of the east" (Job 1:3). He was happily married, raising a healthy family and wealthy with possessions. It's easy to be thankful when life is trouble-free. However, even after learning that his livestock had been stolen and children killed, Job managed to still show thankfulness stating, "… blessed be the name of the Lord" (Job 1:21).
This year has been challenging for everyone, but the staff and students at St. Joseph's Indian School have still found so many things to be grateful for.
Students have been deeply impacted by changes to their school routines, their social interactions and their ability to be with their families. With very few check-outs occurring and limited interactions between age groups, St. Joseph's students have found other creative ways to keep in touch with loved ones. Technology has made phone calls, video chats and virtual birthday parties possible so families and students can continue communicating even when hundreds of miles apart or just across campus. Many students have expressed their gratefulness for the ability to see their sibling or parent or grandparent on the computer screen while talking. Even old-fashioned letter-writing is back with children writing letters, sending pictures and receiving letters and packages in the mail.
Finally, St. Joseph's staff have worked hard to ensure many events we normally enjoy in the fall continue to happen with new safety precautions in place. One of the biggest and most anticipated of these events was Halloween. Students and staff love to dress up, decorate rooms and hallways, and trick-or-treat. Students were initially concerned Halloween may not happen at all, but were surprised and very grateful when they learned that everyone would be able to participate in a Halloween parade for candy and a Grand March costume contest.
Thankfulness is something that seems to come easily to our students. They are quick to express gratitude and find a silver-lining even during difficult circumstances.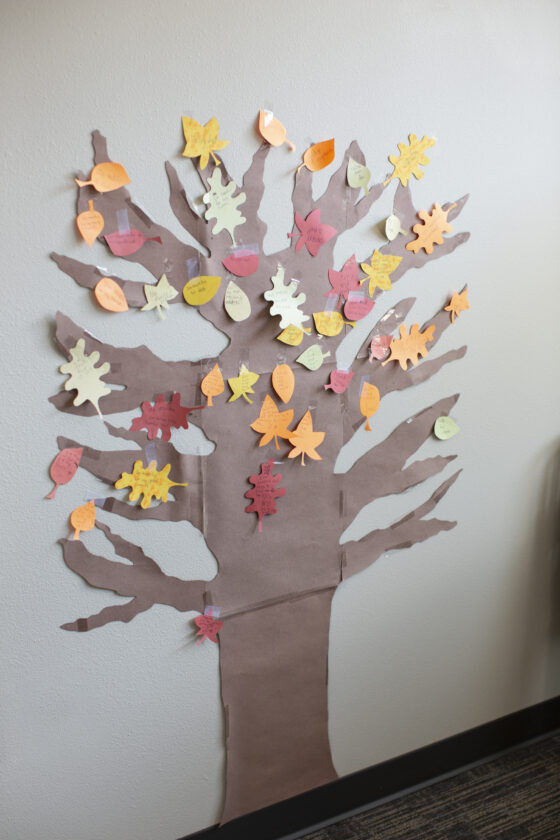 I like to encourage thankfulness with the students I work with during the fall months using a "Thankfulness Tree." I tape a paper tree to my wall and, every week, students who come to my office are given an opportunity to choose a fall leaf and write something they are thankful for before hanging it on the tree. While the request is for a single gratitude, many students fill their leaves with several things they are grateful for. The most popular items listed are family, pets, friends, God and St. Joseph's.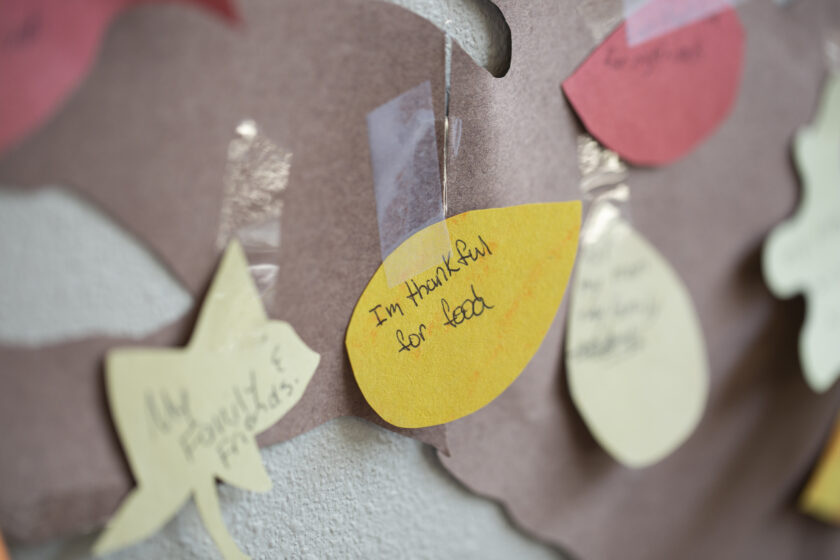 As the tree fills with colorful leaves, students like to read what others have written and reflect on things they wrote in past weeks. If I am being honest, I almost didn't put up the tree this year. It was a lot of work in the past and I didn't know if the kids enjoyed the activity. However, when the tree didn't appear in early October, the kids began to ask about it and even request I put it up for them!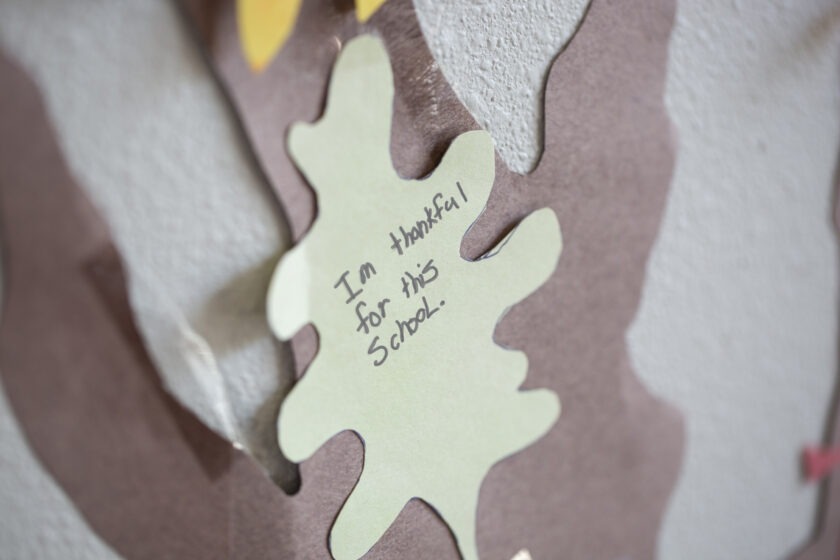 I am happy that I obliged because walking into my office every day and seeing that tree with all of its leaves is a reminder to the students, and especially to me, that even after a year such as we have had, there are so many things to be thankful for.