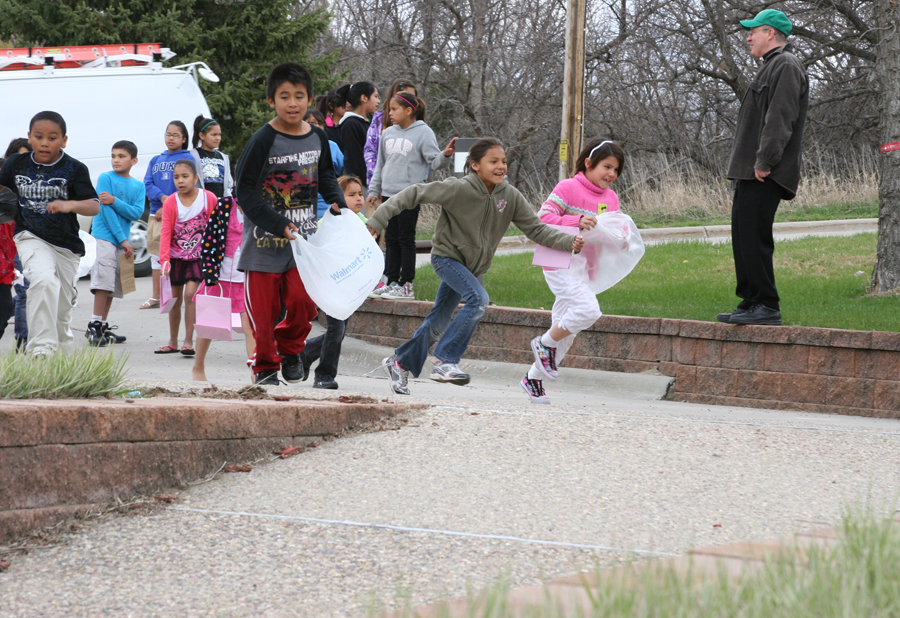 The school was very quiet this morning, but once the homes opened at noon, the campus sprang to life as our American Indian students returned from Easter break. I took advantage of the morning quiet to work through a thick folder of strategic planning materials for next week. It has been four years since we developed our last plan. Reading through staff input on strengths we can  build on and weaknesses we need to address, gives a good overview of where to focus our efforts.
The residential coordinators spent the afternoon hiding colorful plastic eggs around our St. Joseph's Indian School campus. At 4:00 all the children who were back, got to take part in our annual Easter Egg Hunt. Grades 6-8 gathered at the field outside the Fisher Home, and grades 1-5 lined up outside the office.
Once they accomplished that mission, they brought their findings back to the Rec Center where they opened them to see which ones contained prize slips in addition to the small treats. Many lucky winners got to choose from a variety of lovely toys, games and stuffed animals. $10 Walmart gift cards that someone had donated were the coveted grand prizes. The kids all seemed to enjoy the adventure and everyone walked away a winner.