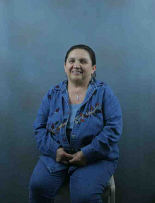 Mitakuapi  translation – (listen I am going to tell you something), this is what our elders would say, so anytime you are at a gathering and you hear a Native American speaker, or presenter and they say this, you will know what they mean.
Hi Everyone, my name is April  and I began working here at St. Joseph Indian School in July of 2005. I am the Family Liaison/Clinical Support. I also Coordinate the FAST program here at St. Joseph's. I love meeting people and new families. As some of you know, I am also known as Grandma FAST or just Grandma, which is fine with me. I have the opportunity of going out and recruiting families and getting to know the families with home visits and weekly contacts. I would like to thank Fr. Steve for asking me to be a part of this. This is very interesting, and one has the opportunity to get to know others a little bit more.
A little about me: I am a Certified Chemical Dependency Counselor – I with the state,  and also International. I work with domestic violence, so therefore an advocate for the shelter, and serve on the Child Protection Team with Social Services and inter-agency in Fort Thompson, South Dakota.  I love my job, especially when it comes to the children, seeing that smile on their faces, when their parents come to campus and stay with them.
I do appreciate St. Joseph's staff and the working relationship I am personally acquiring with everyone. I know there are still a lot that I haven't had the chance to meet or work with, but I just want to say thank you in a good way for all your hard work.
I end with a warm hearty hand-shake.