Greetings from St. Joseph's Indian School.
The weather the last two weeks has been amazing. No blistering cold, rain or snow and temperatures have been in the 50's and 60's.
VALENTINE'S SOBRIETY CARNIVAL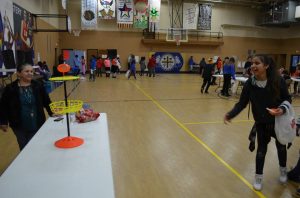 A week ago, we held our Valentine's Sobriety Carnival in the Rec Center. For the students in grades 1-6, there were various games of skill, chance, hope and luck that they could take part in.
The idea was to score a certain number of points in each of the six games they could play. Once they had their scores, they could approach the prize tables and choose whatever they liked.
Once they chose a prize, they could return to playing games or have their faces painted. The carnival is a way for staff to help our students realize that they can have fun without having to turn to drugs or alcohol.
As they left the Rec Center, each student was given a bag of popcorn and their choice of a soda or water.
After the younger grades finished, the 7-12 grade students had a dance. It seemed like everyone had fun.
CATHOLIC SCHOOLS WEEK
One of the activities offered during Catholic School's Week recently was the chance for all students to walk the Labyrinth that was set up in the old school gym.
The Labyrinth has only one path and offers people to walk it as a devoted act of pilgrimage and prayer. What is unique is that the path keeps moving you closer and further away from the center at different points in your prayer walk.
The students were asked to surrender to the journey with an open heart and open mind. Once you did reach the center, you could take however long you wanted to seek an insight, wisdom, peace or a gift from the Holy Spirit.
VOLUNTEER OF THE YEAR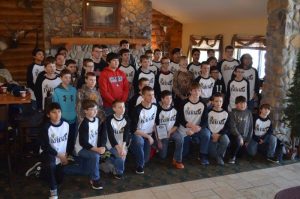 At the end of January, the local Explorers Club- of which several St. Joseph's students are members- was honored with the Volunteer of the Year Award for the Chamberlain area.
Over the years, the group has raised nearly $100,000. Their fundraising efforts have been donated to the local community to support the Veterans Memorial, sporting fields and local citizens who have medical issues or expenses.
In addition to their fundraising endeavors, they also clean up trash around town and hire themselves out to do some basic tasks to help the elderly.
This is the second time the Explorers have won the award. We congratulate them for their efforts to reach out in service to help others.
FLAT FRANCIS
Many of you may be wondering Where is 'Flat Francis'? since we haven't mentioned him recently.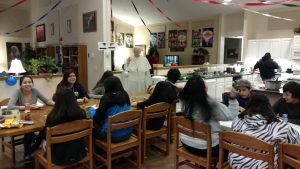 We want to let you know he is safe. Personally, I think he snuck down to Houston to interact with both the Patriots and the Falcons as they got ready for the Super Bowl!
He was able to attend the Super Bowl Party one of our high school homes hosts each year for the 7-12 grade students. The home has two rooms with a TV, so one room is always dedicated for one team and the other team takes the adjoining room.
Those attending put their names in the hat for periodic prize drawings and were able to try to win some money by attempting to accurately predict the score at the end of each quarter.
Prior to kick off, all who were in attendance shared a meal together.
Since not all the students were into the game for the whole time, there were chances to play various card games and visit with friends. Flat Francis made the rounds. We never could get him to commit as to who he was for—you'll notice in one picture he is standing between the symbols of the teams so as to keep his neutrality—but he did enjoy interacting with our students and staff.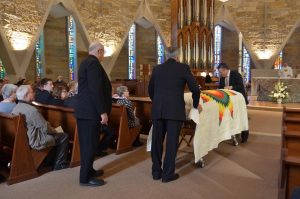 We have some sad news to share. Fr. Michael Burke, SCJ, a former Provincial (1983-1989) died suddenly of a heart attack last week.
Father Mike had been superintendent here at St. Joseph's from 1971 to 1977. He also served as Pastor at St. Mary's Church in Lower Brule from 2006-2008. He recently celebrated his 50th anniversary in vows.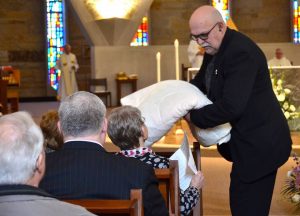 Andy, our Director of Alumni, was able to travel to Sacred Heart School of Theology in Hales Corners, Wisconsin to represent St. Joseph's and present a star quilt to Father Mike's family. We ask that you please keep him in your prayers as he now walks the Holy Road.
May the blessings of the Great Spirit be yours now and always. Know that we keep you in our prayers as we are very grateful for your generosity and support of St. Joseph's.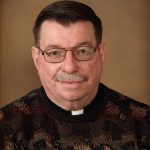 Fr. Anthony Kluckman, SCJ
Chaplain