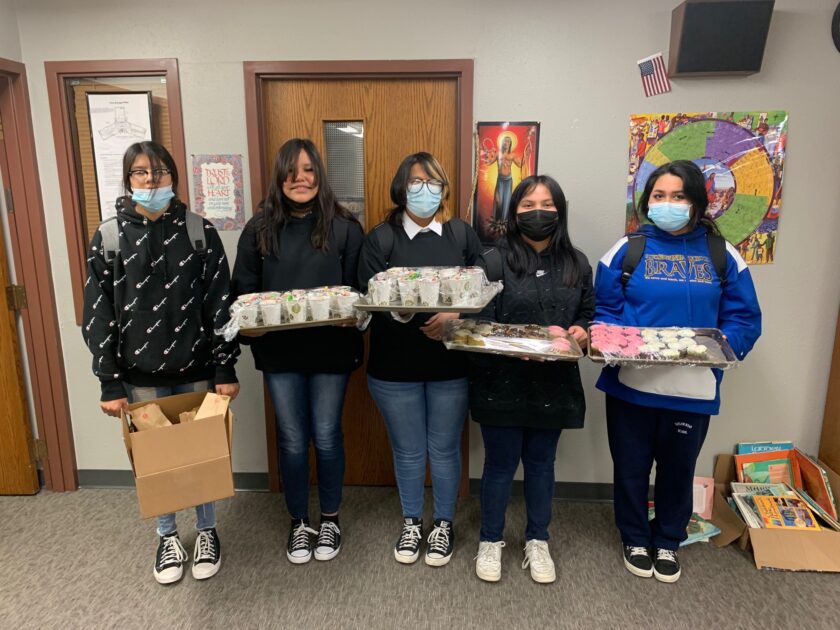 Is there anything sweeter than an unexpected visit from a friend? Pair it with a cupcake, cookie dessert and a card!
Some eighth grade girls barreled through the hallways recently with a mission to spread gratitude and love to their teachers, classmates and other staff at St. Joseph's Indian School.
"It's something we are calling their 'Gratitude Project'," said Kim, the Religion teacher at St. Joseph's who helped organize the project. "I'm sure it will get wild."
In her classroom, the students brainstormed different ways they could show people they care and surprise them with a gift. The group decided making a dessert and a card would be best, and they planned to deliver the goodies during Study Hall.
But first, the students baked and frosted cupcakes and made "dirt cups" (a chocolate cookie and pudding dessert of sorts) with a little help from their houseparents.
After gathering in Kim's classroom, the prediction that things would be "wild" proved very true. The girls quickly raced through the school hallways going this way and that way to deliver the sweet treats to their pals. Like bees buzzing to and from a hive, the girls worked feverishly until the large trays of sweets were empty.
"I was kind of nervous [before passing out the gifts], until half the kids were like, 'Oh my gosh! That's really good!'" said Kaylee, a St. Joseph's student.
"This project made me feel really glad," said LaShanti, another student.
What started as an ordinary day truly ended on a high — or sweet — note before the last school bell rang for the day. There was a lot of laughter. A lot of smiles. Most of all, there was a lot of gratitude.
Mission accomplished.