What a great celebration!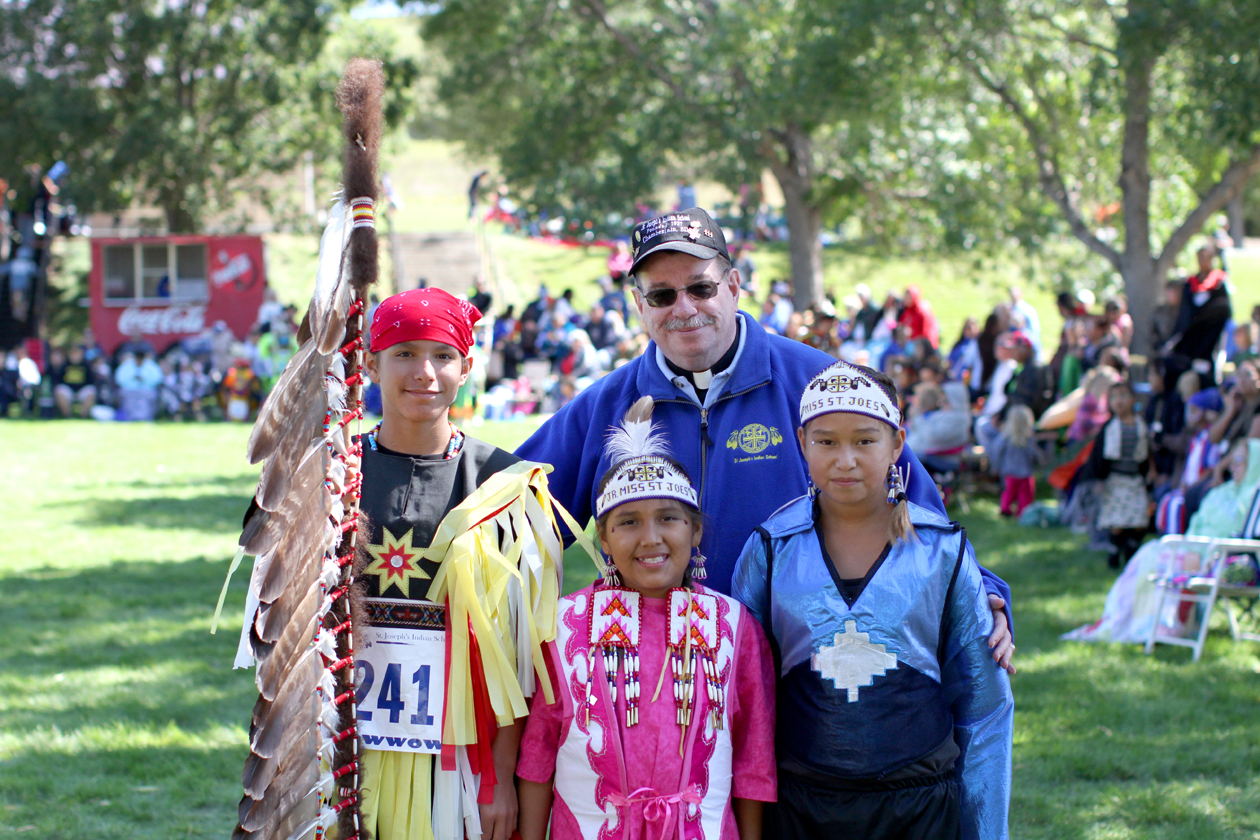 Powwow activities started last Thursday when two busloads of visitors went on a tour of the Crow Creek and Lower Brule Indian Reservations just north of Chamberlain. A 'meet & greet' Thursday evening allowed our visitors to ask questions of our Child Services Staff.
Friday, guests gathered for various cultural activities at the Akta Lakota Museum & Cultural Center. Later that day, the students gave tours of their classrooms. Afterwards, everyone gathered at the rec center for the announcement of our powwow royalty — Miss St. Joseph's, Jr., Miss St. Joseph's and our Eagle Staff Bearer, who would lead the Grand Entry on Saturday.
Mr. Dallas Chief Eagle then presented a hoop dance.  Friday concluded with the annual Tiyospaye Banquet, where we drew for a Lakota Star Quilt (won by a benefactor from California). There were also silent auctions and the live auction of hand-painted piece by Del Iron Cloud, a St. Joseph's graduate and our Distinguished Alumni Award winner.
Saturday did indeed live up to all the predictions and was an answer to our prayers. The sun was out with no clouds in the sky, but it was a bit breezy. As the day progressed, it warmed up and turned out to be a beautiful day, great for the dancers.
The morning began with the dedication of the new playground equipment.  We were honored to have the benefactor who was the driving force behind the project present to help cut the ribbon with Miss St. Joseph's.
Afterwards, our grass dancers helped bless the powwow grounds and prayers were offered asking the Great Spirit to help the dancers do their best and to make the whole day a rewarding experience for everyone.  The Colors were carried by an Honor Guard made up of military veterans who were St. Joseph's alumni.  All veterans were invited to march in following the colors. Veterans were invited to introduce themselves, tell what branch of service they served in and where they have been stationed.  We were especially honored to have a World War II veteran with us.
Another highlight of the day was the presence of Mr. Casimir LeBeau, one of two surviving members of the student body that started at St. Joseph's when the school opened in 1927.  He shared some thoughts with the crowd and then became the centerpiece as the 64 alumni who were present gathered around him for a group picture.
As the competitive dancing came to an end, we had Mass at Our Lady of the Sioux Chapel. Several of our dancers attended in full regalia and danced accompanied by St. Joseph's drum group.  After Mass was over, everyone gathered for dinner and prizes for the dancers and drum groups.
It was a wonderful weekend! Be sure to watch our powwow video and consider making plans to attend our 39th powwow on September 19, 2015!
We thank you for your many prayers.  May God's blessings continue to be with you and yours.
See more powwow pictures in our Flickr album!
Fr. Anthony Kluckman, SCJ
Chaplain