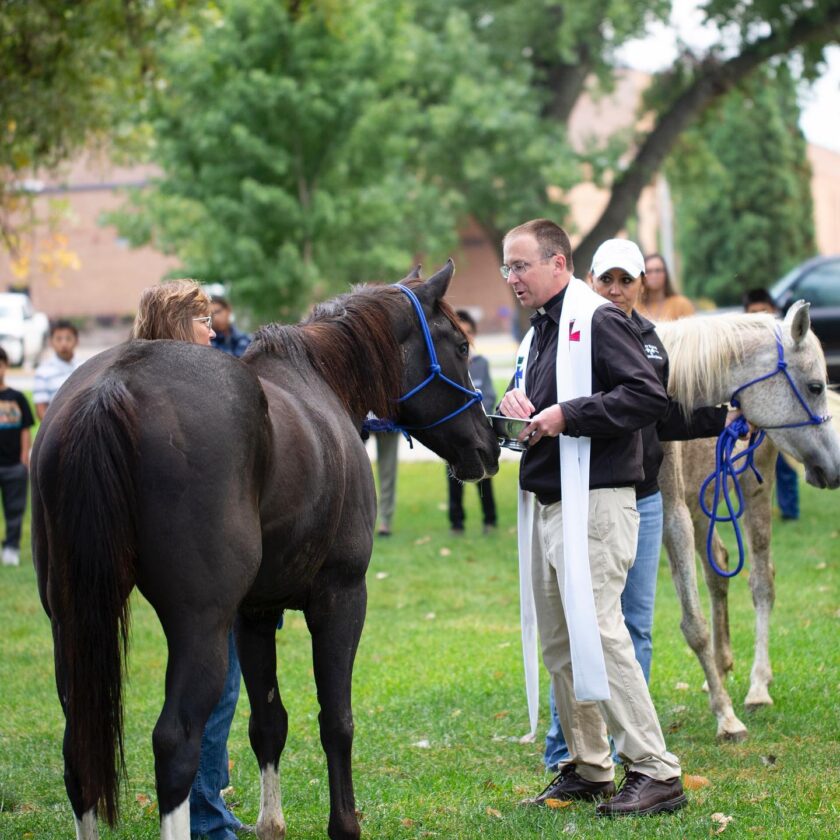 Staff, students and animals in the school's programs came together at the center of St. Joseph's Indian School's campus on October 4, Feast of St. Francis of Assisi, patron saint of animals and the environment. Even the squirrels paused their high-speed food-stashing activity for the morning's observance.
At the center of the Wisdom Circle, Chaplin Fr. Greg Schill, SCJ, led the prayer and blessed some of the animals who grace St. Joseph's homes and campus daily. The traditional Catholic blessing harmonizes with the Lakota teaching Mitákuye Oyás'iŋ, a prayer of oneness with all creation.
First blessed were the horses, who took a break from nibbling on the dewy grass for the prayer and holy water. The Lakota, Dakota and Nakota tribes represented at St. Joseph's regard animals at a deep level. In particular, they revere the šúŋkawakȟán — horse — for its grace, bravery and ability to assist in healing from trauma, anxiety, and mental and emotional distress. The two horses, Sox and Gramma, are in the school's Equine Therapy program.
Two dogs, Finn and Penny, from the Houseparents and Pets in (HAPI) Homes program, also received blessings. Houseparent Robbie Chatman held her dog, Penny, a copper and white dachshund.
"We have a lot of fun," she said. "The boys are always trying to rename her dime or quarter, but she is Penny."
The šúŋka — dog — has long played an essential role in Native American society and culture. Before the arrival of the horses to the Great Plains, Native Americans relied heavily on dogs for a variety of tasks. Although the relationship has morphed over time, the connection remains strong.
The school has found both animal programs beneficial to the students, and students often gravitate to the dogs or horses when they want companionship, or "just a wet kiss," as one first-grader said of Finn on this morning.