I don't handle hardly any of the day-to-day business, but I started the day with a bank run. I never mind getting asked to go downtown to take paperwork for a signature, because that usually means someone has gifted us with stocks or bonds in a sizeable amount that requires my certification. Especially in a difficult economy, I am so grateful for people's generosity.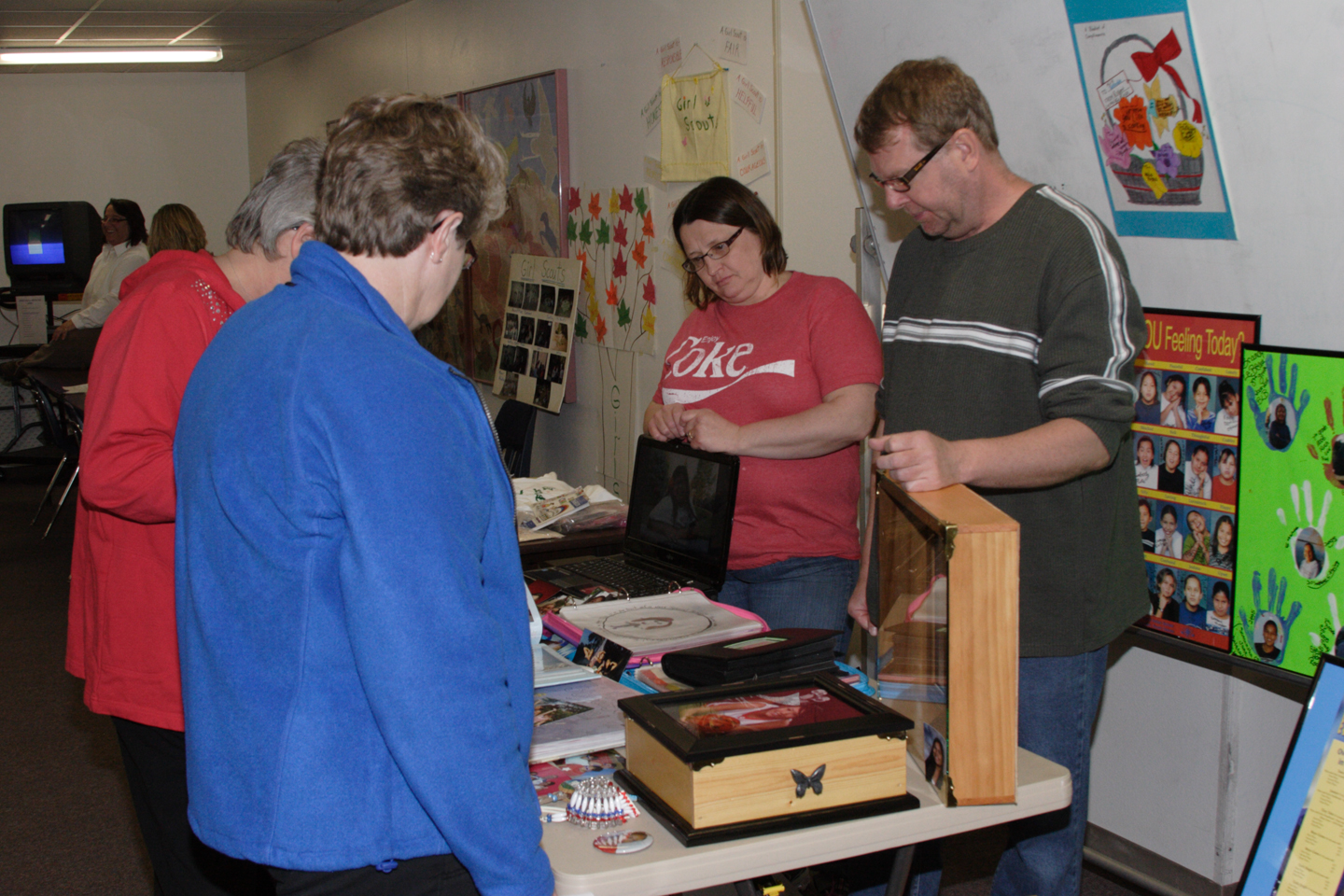 In the school assembly room, our houseparents set up booths with photos and hands on activities so other staff could stop by and learn about their home activities. One table showed the Lakota (Sioux) cultural projects jr. high students were working on. Another showed lovely wooden picture boxes  the houseparents built as keepsakes for their graduating 8th graders each year. The Girl Scout troop leader showed examples of the many crafts her girls created over these last months. One home uses pictures of their 4th and 5th grade girls to make calendars for the families and guardians each year. Yet another makes a DVD to send home with the kids at the end of the year. Our houseparents are not only a very dedicated group, but they have lots of creativity and go the extra mile to make our homes feel more like a home.
Emily is our new photographer, and we set out for some new pictures with the students. It's fun to take part in a classroom activity or have fun on the playground, and I do those things regularly anyway. Most of our kids have practically grown up around me,  so they're not at all bashful if there's a camera present. It was a gorgeous-though windy-spring day, and the break from the office felt invigorating.
Dixie from our Akta Lakota Museum & Culture Center gave me a folder of art submissions for next week's Museum Acquisition meeting. I'm not well schooled in art, and I don't make the selections. However I did have some fun at the William Home (4th-5th grade girls) showing them the pictures and asking them to choose some of their favorite pieces. I want to show them that there's more to art than just trying to make something look as realistic as possible, but the use of shape, color and texture can all be used creatively. After supper, I cheered for the girls on the softball diamond. I volunteered to pitch one inning. Though I tried to lay the ball right down the middle for students to hit away, I had surprisingly stellar defense behind me. They caught every ball that was hit and I finished with a perfect 1 2 3 inning.
I finished the evening at the gym, taking part in a game of 21 with three high school boys all several inches taller than me. With my limited "3 inch" vertical leaping ability, I didn't earn many rebounds among the trees. When I did get a board through a lucky carom or bounce, I had to make the most of it. I hit a few outside shots, and left knowing that even 10 months after surgery, I still have much work to rehab my leg.