8th grade graduation is both a happy and sad time. We know that while many of the students will continue on with our high school program, several will be attending other schools next year. Besides being a time of congratulations, this was also a time of goodbyes.
Our graduation speaker was Deacon Harold Condon, who graduated from St. Joseph's Indian School in the 8th grade class of 1964. He grew up speaking Lakota at home, but in those days, when he attended school here, he was not allowed to speak his native language. In the 70s he returned to St. Joseph's Indian School as a member of the staff and began the Lakota Studies program that continues to help our students take greater pride in their Native American culture. This was a special day for him because the graduating class included his grandson, whom he knows will get a good education here.
Senator John Thune was able to join us. He recounted to our students how sports was so important to him growing up, yet he was devastated when he missed a shot at the end of the district basketball tournament that was the difference between going to State and ending the season and his high school career. As he sat dejectedly in the locker room, the coach came in and told him, " John, go get on the bus. And one more thing. Track practice begins Monday." We all need to learn that lesson about overcoming disappointment.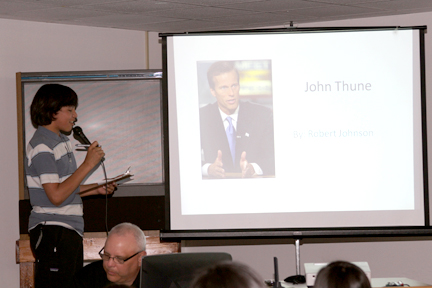 Senator Thune made extra time to visit with Robert, one of our graduates who is very interested in how government works. Robert wrote his 8th grade term paper on Senator Thune, before he ever knew that he'd be at the graduation.
We finished the celebration with a festive meal in the dining hall before folks went their separate ways.
The 7th graders are all still on campus, not just to take notes for their ceremony next year, but to prepare for their week-long cultural trip. That proved to be one of this 8th grade class's favorite memories; we hope it will be for this group as well. I met them at the Sacred Hoop Center before they loaded up the van and mini-bus to head on the road, and offer prayers of support and encouragement.