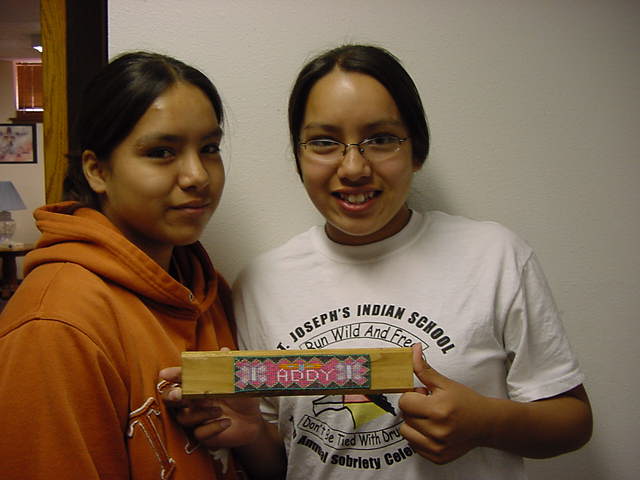 Every year, I get to teach an area of Lakota (Sioux) culture that is close to my hands and heart-loom beading.
The 7th grade class has begun the task of learning what it takes to make those beautifully created drops for regalia, barrettes, hair ties, name plates, bracelets and whatever other ideas the kids come up with in their minds and hearts.
We begin with looking at some old and new pieces of beadwork so that the kids can see examples of what they can make.  Some of these items are decades old and some are as new as last year. I also encourage our Native American youth to take a deeper look at any piece of beadwork they come in contact with in their world.
My objectives are many.  I want the kids to connect culture to their hearts, of course; but also to see the difference between designs from tribe to tribe.  Our Lakota (Sioux) designs are very geometric and math is a big part of loom beading.  Counting, centering, dividing, designing, measuring and creating are all a part of this project.  I also encourage understanding the colors and what they may mean to different tribes, individuals and cultures.  The final product is very rewarding for me and the students.  The loom pieces are given as gifts, worn or used for themselves and some are sold to staff for a little extra spending money.  This is also a part of the objectives.  This is an art our culture has done for generations and it can be a money-making venture for someone who is motivated and educated to embrace that challenge and talent.
From here, the students create or find a design they draw out on graph paper.  Next is learning to string the loom appropriately and accurately. I tell the students that the hardest part is threading their needle and putting the first row of beads on their loom (which were made by our very own maintenance department elves in the workshop here on St. Joseph's Indian School's campus).  From here, the possibilities are endless.  It is an art you love or don't.  Many of our students love it.
Today, I am waiting for a response from Fr. Steve who is attending the Lakota Nation Invitation conference in our beautiful Paha Sapa/Black Hills.  I submitted two pieces of loom beadwork from our school and I am hoping for a ribbon to hang by their stocking upon returning from Christmas Break.
Wanikiye taampetu!=Jesus's birthday/Christmas
LaRayne, Native American Studies Teacher 1st -8th  grades