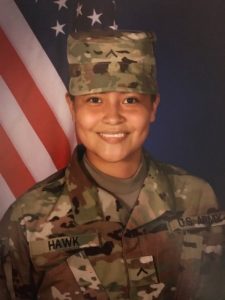 Martina, an alumna of St. Joseph's Indian School's graduating class of 2016, was recently awarded the Army Achievement Medal for the second time!
Martina attended St. Joseph's for 11 years and was very involved in the St. Joseph's and Chamberlain High School communities.
From the U.S. Army:
PFC Hawk was selected as the Battalion's Soldier of the Month by performing in a manner that greatly distinguished herself above her peers while being assigned to headquarters and headquarters company, 2nd Infantry Brigade Combat Team.  PFC Hawk's commitment to excellence and professionalism contributed tremendously to the successful accomplishment of the unit's mission.  Her selfless service reflects great credit upon her, the "Renegade" company, the "Bayonet" Battalion, and the United States Army."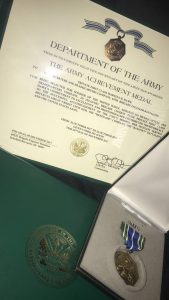 From her Company Commander, "Great job being such a phenomenal soldier. Way to represent the renegades!"
After Martina received her first AAM award, she told a St. Joseph's houseparent, Nancy, that she believes her personal word is "perseverance." We think it speaks volumes about her and her motivation to succeed no matter the obstacles she might face.
Congratulations, Martina!