Good afternoon from deep in the heart of Texas!
With orientation for new staff and all staff just around the corner, I have taken a few days to make a quick visit to my mother in the San Antonio area and enjoy some vacation time.  Seems hard to believe summer is going by so quickly!
Though I am away from campus, I wanted to take a moment to express some pride in the people who are part of St. Joseph's Team.
Brock, one of our fifth grade teachers, was honored with the Distinguished Professional Achievement Award for his years of service to the Chamberlain baseball program!
He started as a volunteer in 2001 with the Chamberlain High School baseball program. He stepped down last year after spending the last six seasons as head coach. He also served as head coach of the Chamberlain Legion baseball team from 2002-2013.
In addition to coaching, Brock has been groundskeeper at the field trying to encourage others to enjoy this summer sport.  He still is active in the baseball program in the area by serving on the Chamberlain Baseball Association Board.
We are proud to have Brock as part of our St. Joseph's Indian School team!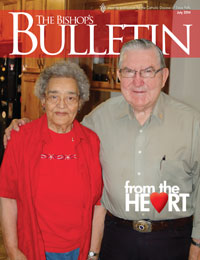 Deacon Alfred "Bud" Jetty and his wife, Frances, are also a vital part of St. Joseph's Indian School, the local community and the Diocese of Sioux Falls, South Dakota.
Deacon Bud serves at St. James Catholic Church in Chamberlain and frequently helps with our Sunday liturgy. He is a positive example to the Lakota students and is also on St. Joseph's Board of Directors.
Bud and Frances were named Native American Liaisons by Bishop Paul Dudley in 1991. Bud and Frances were both featured in the July 2014 issue of The Bishop's Bulletin.
Deacon Bud was selected to be State Deputy for the Knights of Columbus (KOC) in 1991 and thus far has been the only Native American to hold the top post in the state.  One of his programs was the establishment of a KOC student exchange program giving both Native and other students the chance to experience other worlds.  More than 50 such exchanges took place in the first three years and still continue today.
Bud and Frances both take great pride in the canonization of St. Kateri Tekakwitha – the first Native American Saint. Deacon Bud was a representative of the Diocese of Sioux Falls at her canonization ceremony in Rome.  Frances and Bud are looking forward to attending the annual National Tekakwitha Conference in Fargo, North Dakota in August.
Congratulations to Bud and Frances! We are honored to have their support and involvement with St. Joseph's Indian School. We pray their ongoing example of service and dedication is a reminder that each of us is gifted in a variety of ways and are indeed all related and called on to be present to one another as we fulfill Jesus' command, "love one another, as I have loved you."
I hope everyone continues to have a safe and enjoyable summer! I look forward to getting back to campus and welcoming new staff to St. Joseph's Team.
Your prayers are appreciated that orientation go smoothly so staff will be ready to welcome the students as they return for the opening of school on August 11, 2014.
Sincerely,
Fr. Anthony Kluckman, SCJ
Chaplain