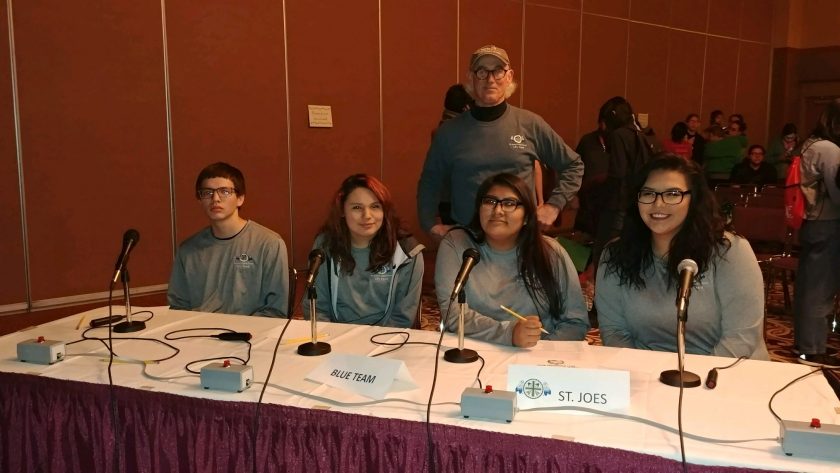 Another LNI Knowledge Bowl (Quiz Bowl) was completed and once again we did well.
We started off December 14 at 8:30 a.m. with each member of our team – all rookies – taking four exams in their respective subject areas. We had one new team member, Krista, earn a 1st Place plate in Senior Grammar, which was outstanding! Boy, was she shocked and proud!
Then the double elimination quiz bowl competition began in earnest.
The first match was against Marty Indian School. With our rookie team, all members were hesitant to buzz-in and answer questions. It was tied at halftime, 3-3. During the second half, we began buzzing-in and answering questions, but fell 12-9, which put us in the loser bracket, but with a chance to emerge back into the championship round. I must say, we were disappointed and doubtful at that time, even though we had another player, Taelonna, coming from Chamberlain later in the afternoon. She was on our 3rd Place team last year and she was ready to contribute.
The following day, we began our match with Pine Ridge. We buzzed early and often and we won our match 24-9! Now the whole team – Taelonna, Listella, Krista, Nick and Lilly – were energized!
The next match at 9:30 a.m. was against Lower Brule. We jumped to an early lead with questions in our favor from Current Events. Though we trailed by one at the half, we came on strong to win 16 to 12. That put us back into the championship brackets.
Later, we challenged a strong team from St. Francis Indian School. We dug deep and raced to an 11-5 halftime score. At the end of the match, we won 19-8!
Onto the hardest match we would face up to that point: T.F. Riggs, from Pierre, S.D. The match started with Riggs jumping to an overwhelming halftime lead of 14-2. During our two-minute halftime break, I shared a story with the team from last year when we overcame a 10-point deficit. Our captain, Taelonna, then began asking the team members what bonus questions they felt confident in. With that leadership taken, we began the second half. We immediately answered the first three questions and we were rolling with confidence. Then both teams took turns answering difficult questions in math, science, social studies, language arts and Native American history. But, in the end, we came up short, 21-15. However, we felt vindicated by being in the elite six, coming in 6th Place overall.
With primarily a very young rookie team, next year's competition is looking very promising!