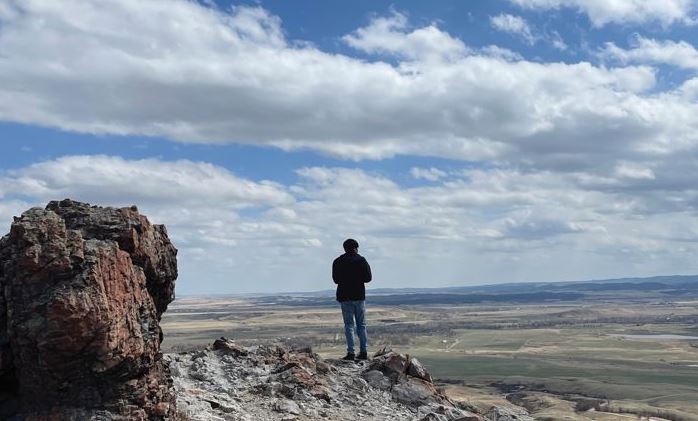 St. Joseph's Indian School High School Program juniors and seniors embarked on the first-ever Wičhóni Wašte (Good Life) Retreat this past spring!
The retreat day, called "The Summit," came about after Joe, Mission Integration Director, listened to student feedback and consulted with Mount Marty University and the University of Notre Dame regarding similar experiences those schools provide.
The culturally based experience took a group of seven juniors and seniors to Western South Dakota for the day. Following Sunday Mass at St. Isaac Jogues in Rapid City, the group traveled to Bear Butte, where they made prayer ties and set out to hike the route to "The Summit." During the windless 51-minute ascent, they were invited to think about the future and the people who helped them reach this point in their lives. The 35-minute descent was an opportunity for humble reflection on what new beginnings looked like when they were younger and how the coming year will be a beginning experience.
Zeke, a junior student, enjoyed Mass, which included smudge, a prayer for Black Elk's canonization and the four directions prayer.
"It was cool to see another church celebrate our culture," Zeke said.
Clarysia, another junior student, was grateful for the experience and noted, "It was a hard hike. I am glad I made it to the top."
St. Joseph's Indian School gratefully acknowledges the effort of our high school students to walk in a good way daily.
To learn more about the great things happening at St. Joseph's Indian School, visit www.stjo.org today!